Sharknado 3: Oh Hell No!
Still feeling fresh off of Shark Week, the third movie in the Sharknado trilogy, Sharknado 3: Oh Hell No!, premiered last night and, as expected, it was absolutely horrible. Luckily, that was the point of the movie – to be so terribly bad that it genuinely entertains you and leaves you stuck, wanting more. With all the mayhem going on, you may not have even realized some of the subtle phrases and cameos within the program. Naturally, TiVo Research has some findings from last night's airing that you may just find interesting. We have put together not only the overall sentiment of the movie, but also the most frequently mentioned actors, top tweets, and most notable cameo appearances from the shark thriller.
Highlights & Hype
Sharknado 3: Oh Hell No! had a pretty neutral reaction on Twitter, with 49 percent thinking it was just okay, 33 percent thinking it was bad (which means good?), and a strong 18 percent (sarcasm) surprisingly thinking it was good!
Also shown below are the top tweets referencing the movie and the most mentioned actors in the movie: Check them out!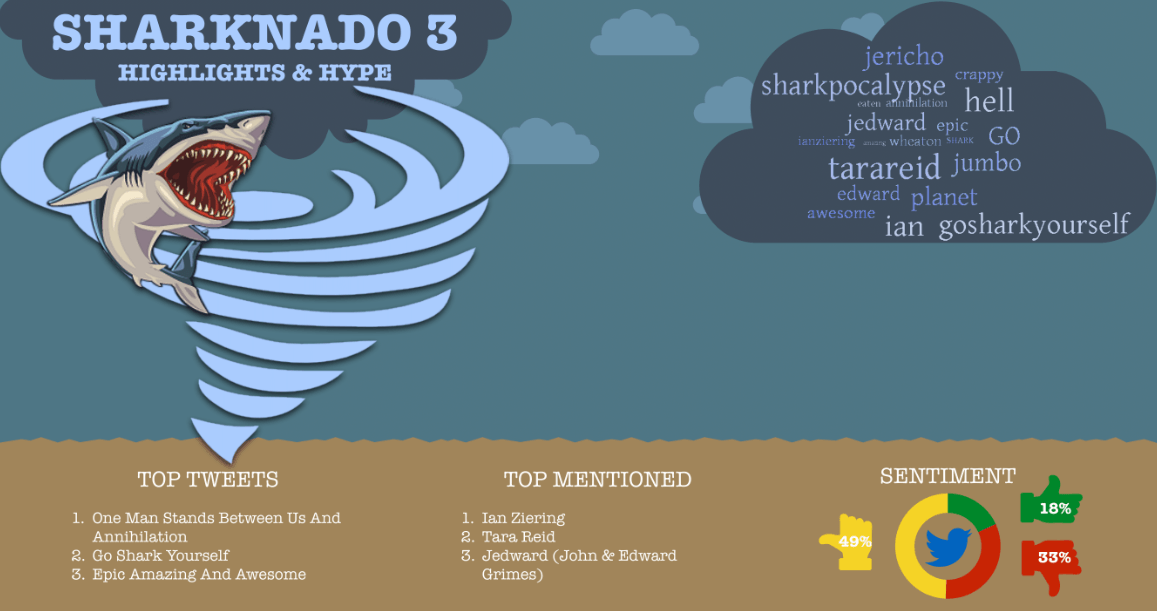 Top Cameo Appearances
If you paid close attention, you may have noticed a bunch of notable people in the movie. From the owner of the Dallas Mavericks, Mark Cuban, to Game of Thrones author George R.R. Martin, these celebrities wanted a piece of this disaster [of a] movie. Counting down from 10:
10) Matt Lauer and his Today Show co-hosts get attacked by sharks on the set of The Morning Show.
9) Mark Cuban makes his first appearance as the President of the United States.
8) Mark Cuban (President) and Ann Coulter (Vice President) help impale a shark on a pole flying the U.S. Flag.
7) Ne-Yo, playing the President's Secret Service agent, is the first shark victim.
6) Former Baywatch star David Hasselhoff guides the space shuttle through shark-filled skies.
5) Former U.S. representative Anthony Weiner, as a NASA director, tries to halt the launch of the space shuttle.
4) NSYNC's Chris Kirkpatrick, as a well-meaning lifeguard, is attacked by a shark in a resort pool.
3) While watching a shark film in a movie theater, Game of Thrones author George R.R. Martin gets eaten by a shark coming right out of the movie screen.
2) Jerry Springer gets eaten alive while posing with what he believes is a plastic shark.
1) While screaming because Ian is driving off with her sports car, Kim Richards, star of The Real Housewives of Beverly Hills, is viciously attacked by a shark.
And there you have it! As interesting as all of this is to read, it's even better to watch! So go ahead and get on your TiVo device (since you of course recorded the movie on your TiVo device) to check out the movie for yourself!
Source: TiVo Research
Methodology: This TiVo Research analysis was prepared using aggregated, anonymous, second-by-second audience measurement data from approximately 30,000 anonymous households out of our daily sample of 350,000 subscribers to the Emmy® Award-winning TiVo service. TiVo Research gauges the interest in programming content by measuring the percentage of the TiVo audience watching in "play" speed. TiVo Research determined the Top Cameos from the Sharknado 3 that resonated most with our subscribers.