TiVo® Top Moments: 2015 NBA® Finals by Alex Petrilli
It was a battle of the also-ran NBA teams. The Golden State Warriors had not won a title since a gallon of gas cost you $0.44, and the Cleveland Cavaliers had never won a title. Now, these two teams' time had come, with Cleveland's line-up led by local hero LeBron James and Golden State sporting 2015 MVP Stephen Curry. The fade-away three versus the self-proclaimed "best player in the world".
And the series did not disappoint (except maybe for Cavs fans), delivering exciting moments, unexpected heroes (an MVP who never started a game), and two overtimes in the first two games. Below are TiVo's Top Moments from the NBA Finals, in a series that did not lack for excitement.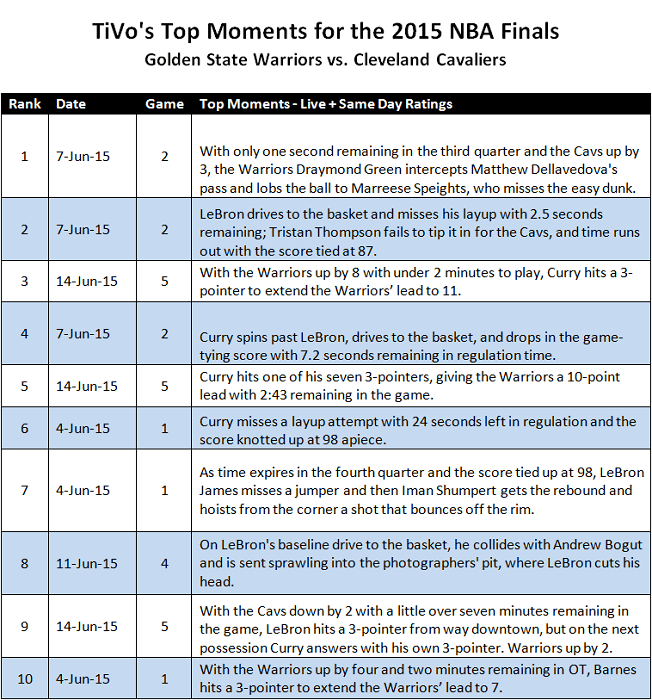 Source: TiVo Research
Methodology: This TiVo Research analysis was prepared using aggregated, anonymous, second-by-second audience measurement data from a sample of approximately 30,000 anonymous households with the Emmy®-award winning TiVo® service. TiVo Research gauges the interest in programming content by measuring the percentage of the TiVo audience watching in "play" speed. TiVo Research determined the Top Moment from the 2015 NBA Finals that resonated most with our subscribers.
TiVo and the TiVo logo are registered trademarks of TiVo Inc. or its subsidiaries worldwide. The NBA name, NBA logo and NBA teams are the property of NBA Properties, Inc. The National Basketball Association is not affiliated with TiVo and does not endorse TiVo products or services.