All's Fair in Weather and Basketball
As the NBA Finals are coming to a climax, the true blue fans of either the Golden State Warriors or Cleveland Cavaliers couldn't be happier. Allegiances have been sworn, and lines have been drawn between Dub nation and Cav kingdom.
But wait, there seem to be more fans than you remember. Indeed, the hype from this year's NBA Playoffs has drawn in the bane of every genuine sports enthusiast's existence: the fair-weather fan.
Using TiVo's viewership data, TiVo Research dug up some dirt from the NBA Playoffs on this fair-weather phenomenon and discovered which states are rooting for which NBA Finals contender. Better yet, we also found which fair-weather fans jumped on which bandwagon. In the end, the Cavs have more fans across the country, but the Warriors' fans are more die-hard. See how this played out below!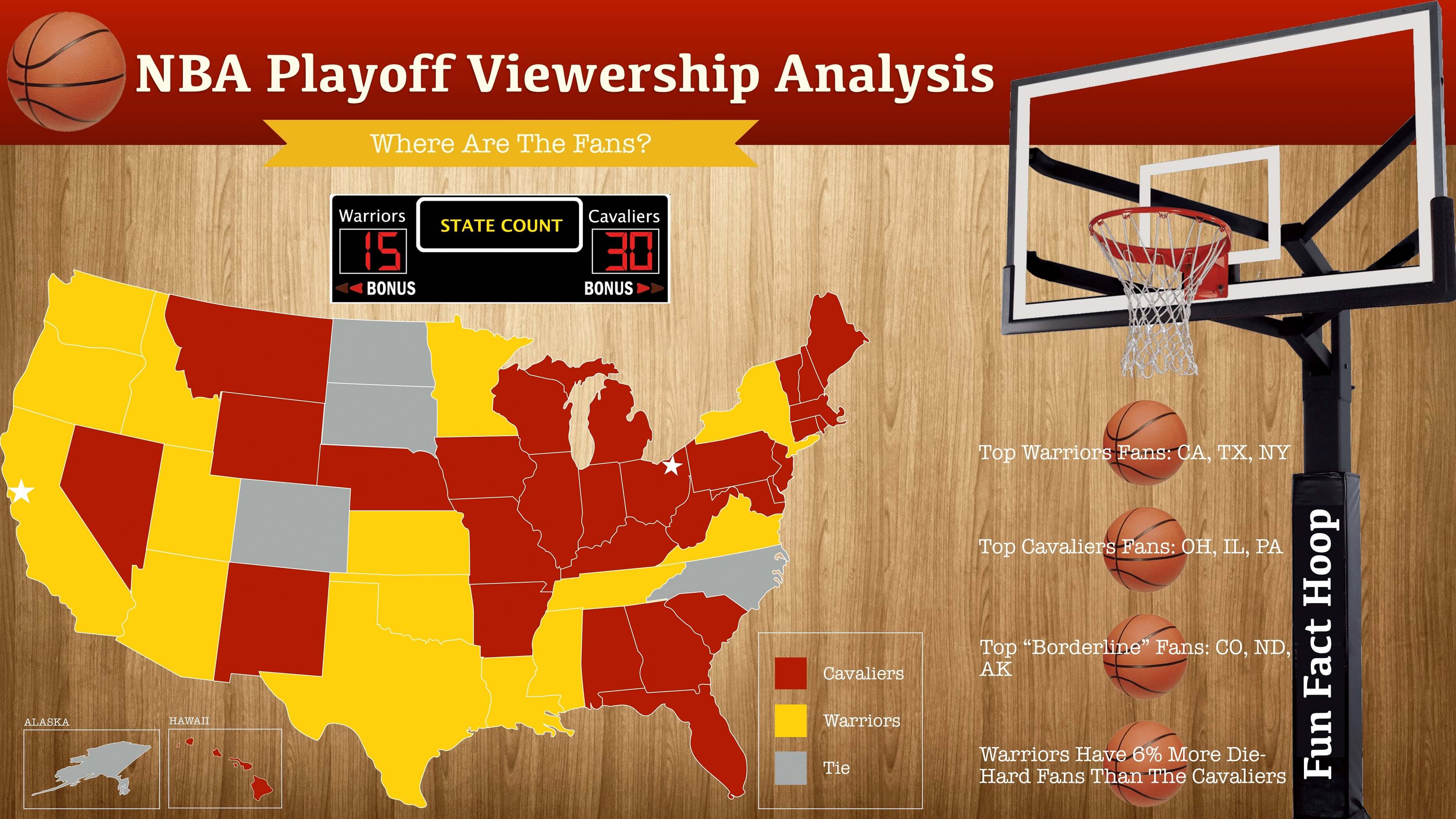 2015 NBA Playoffs Viewership Analysis – Methodology
Using TiVo® viewership data for the 2015 NBA® Playoffs, TiVo Research analyzed fair-weather fans for the Cleveland Cavaliers and the Golden State Warriors during the April 18, 2015 through June 11, 2015 period.
The "fair-weather fan" is someone who is interested in a particular sports team only when that team is doing well, and thus someone who is especially present during that team's participation in post-season playoff games. TiVo used this phenomenon to identify which regions of the U.S. have more Cavaliers fair-weather fans during the 2015 NBA Playoffs, which regions of the U.S. have more Warriors fair-weather fans during the 2015 NBA Playoffs, and therefore which regions of the U.S. cheered more for one team than the other team during the 2015 NBA Finals.
Our measurement for fair-weather fans included defining viewership as a TiVo device that watched at least 30% of a 2015 NBA Playoffs game in a live or near live mode. A fair-weather fan for a given team was identified as a TiVo device that only viewed the 2015 NBA Playoff game when that team won.
TiVo and the TiVo logo are registered trademarks of TiVo Inc. or its subsidiaries worldwide. The NBA name and logo and the NBA teams are the property of NBA Properties, Inc. The National Basketball Association is not affiliated with TiVo and does not endorse TiVo products or services.