The REAL Target by Alex Petrilli
There has been a recent outpouring from advertisers and networks expressing their dissatisfaction with the current age-sex metrics including, Multichannel News Article and Variety Article. Alternate measures are being sought to assist in the evaluation of TV program performance as it relates to the sponsors and their brands. TiVo Research and Analytics is uniquely positioned to offer a wide-ranging set of alternative measurement solutions. The accompanying infographic illustrates various packaged goods categories, Rx treatments and vehicle types that are more likely to be purchased by viewers of each identified network or new broadcast series.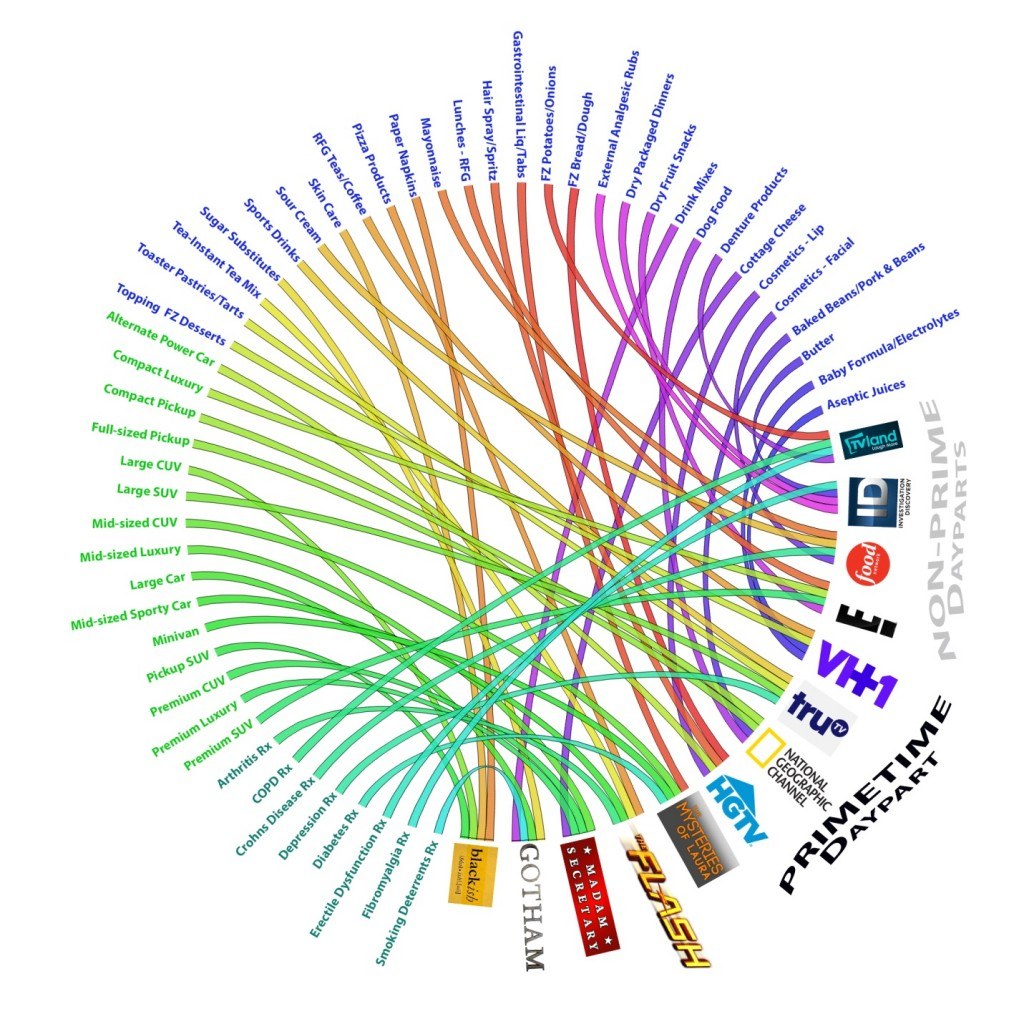 Source: TiVo Research, Media TRAnalytics®.  Based on 4th Quarter 2014 Live + 3-Day Playback Ratings.  A selection of high indexing CPG, Auto and Rx brands are displayed for specified primetime broadcast programs and cable networks in primetime (defined as M-Sun, 7PM-Midnight) and non-primetime.
For Packaged Goods: TiVo Research directly matches TV viewing at the HH level with CPG behavioral data collected by 84.51°, a company that helps its clients create sustainable growth by putting the customer at the center of everything. Using a sophisticated suite of tools and technology, 84.51° works with some of the world's leading CPG manufacturers and partners. Data reflects viewing among the subset of Heavy Category Purchasing Households, defined as the aggregate group of HHs that account for 75-100% of the purchases for the specified brand, based on total dollars.  For more information, please visit www.8451.com.
For Auto: TiVo Research directly matches TV Viewing at the HH level with auto ownership for nearly 1 million HHs.  Data reflects new car purchases for the 5-year period 2009-13.
For Pharmaceutical: TiVo Research is the only provider of a Single-Source data for Rx patients, with a matched sample of over 2 million viewers tuning in to television programming with 1.6 billion de-identified healthcare claims (retail, in-office, specialty pharmacies).
Infographic: Made with Circos.  http://circos.ca/
In all cases, indices were calculated by dividing the rating for heavy brand purchasers by the program or network's overall HH rating.
© 2015 TiVo Inc. All rights reserved. TiVo is a registered trademark of TiVo Inc. or its subsidiaries worldwide. All other trademarks are the property of their respective owners.