Cheaters: "My Schedule Made Me Do It"
TiVo's Second Annual Cheaters Survey Finds Viewers Show-Cheating in Their Own Home and Men are the Worst Offenders
So Orange is the New Black Season 2 just released on Netflix, and you swore to your best friend that you would only watch an episode a day together. Let's be real; what's stopping you from binge-watching IT ALL under the covers with a giant bag of Cheetos® Puffs on a Friday night? Nothing; we've all been there.
We've started a television series with a close friend, or significant other, and sworn that we would never "cheat" and skip ahead. 59 percent of respondents report watching a "must-see-together" show without their significant other. To make matters worse, 27 percent have lied about watching the program. Men admit to lying about watching the program more often (39 percent), while 16 percent of women appear less afraid to tell their spouse they watched without them
Overall, 46 percent have been caught in their deception — 53 percent of men and 40 percent of women. When asked why they "show-cheat", the top response was: "Our schedules are too different to make it work."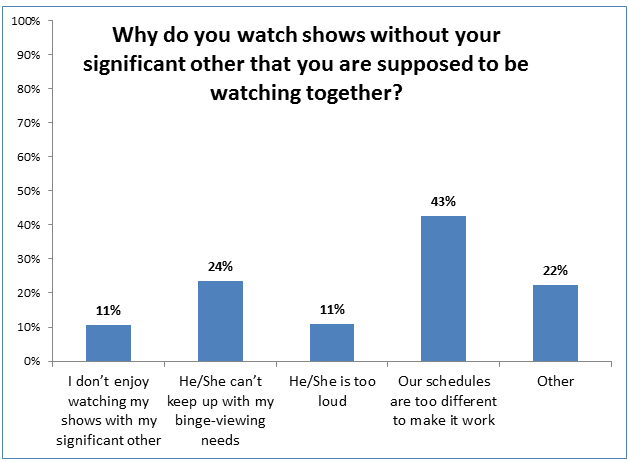 Note: Percentages total greater than 100%, since survey respondents could select more than one answer to this question.
The Cheaters Den
79 percent of show-cheaters report committing the act in the comfort of their own home. This could explain why so many of them get caught. Thankfully, there is still some sense of honor among show-cheaters, since only 26 percent admit to deleting the program from their DVR — after they have watched the program alone — to remove the evidence.
Guilty Pleasure
Unlike some previous survey questions, the results are very similar for men and women when it comes to GPTV (guilty pleasure TV). When asked if they would ever consider asking their significant other to watch their GPTV with them, 42 percent rule it out as a possibility, while 9 percent say they will one day.
Some Additional Key Findings Include:
82 percent of all respondents report having at least one program they are expected to watch with their significant other.
21 percent report quickly deleting their guilty pleasure shows from the DVR so their significant other doesn't see what they have watched.
Almost three quarters of all respondents (73 percent) report they are convinced their significant other is watching a show without them, and 23 percent of all respondents report they have caught their significant other red-handed doing so.
26 percent of all respondents reported that Sunday is the night when most scheduling conflicts occur, because of multiple popular programs being on at the same time.
So you "cheated" huh? – just know that you are not alone. Whether it is due to conflicting schedules, or the fact that your significant other can't keep up with your binge-viewing needs, we have all been there!
Survey Methodology
To collect data for the 2014 Cheaters survey, TiVo conducted an online survey on July 24-25, 2014 of 454 people, ages 18 and up, who state they have significant others. Participants were roughly evenly balanced by gender. Additional details about this survey and other TiVo research are available from TiVo Research (http://tivoresearch.com and insights@tivoresearch.com).
Cheetos is a registered trademark of Frito-Lay North America, Inc.