No, it's not a bad gig when you need to go onto the Red Carpet at the Emmy® Awards for work.  This year, we decided that we wanted to know what the stars were watching on their own DVRs.  We talked to everyone we could, including Matt LeBlanc, William H. Macy, and "Game of Thrones" creator George R.R. Martin. Yep, it was awesome.  Check out @TiVo on Twitter and Instagram to see all of the folks we managed to corral for a moment or two in the madness.
So, wha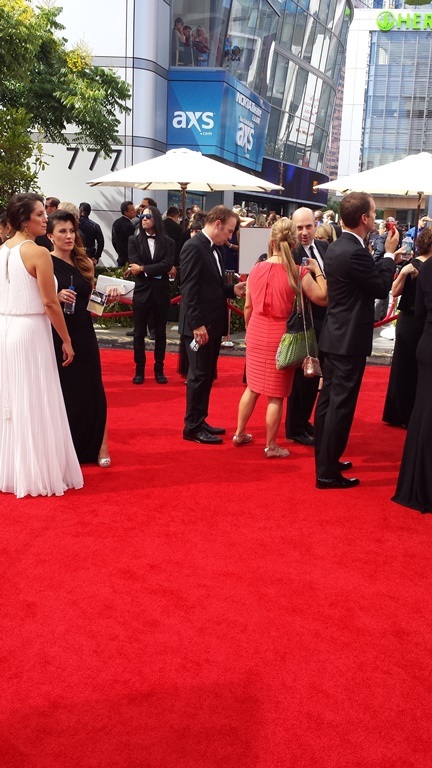 t's it like stalking the edges of the red carpet of a major Hollywood Awards show?
Since we're usually cooped up in the office trying to make the best DVR even better, it's definitely not something that we get to do every day.  Working behind the scenes can be a challenge, and if you talk to anyone who was behind the velvet rope — or in this case, a well-manicured hedge that included a few bees who had made themselves quite at home — you may hear complaints about the hot weather, aching feet (thanks to heels that are never worn), sweaty tuxedos, too-tight bow ties, or the small space into which everyone is crammed. But you know what, tell them to shut up and remind them that they're on the red carpet at the Emmy® Awards! Yes, there are lots of beautiful people who look amazing, and maybe you feel a little self-conscious because — let's face it — these people are all crazy gorgeous and they're walking around as if nothing special is happening.  But, here's the thing, and we're not just saying this because we want to be able to go back again next year:  all of those people are actually nice as well. Of course, some may have had a little too much to drink, but hey, no judgment from us.
And here's another thing. You know those photos of "they're just like us"?  Okay, the celebrities all have hair stylists and make-up artists, so they're not exactly "like us".  But what you don't see on TV is the fact that they all had to wait in line — on the red carpet. For what, you ask?  They all had to line up for their turn to face the paparazzi gauntlet known as the "Step and Repeat".  I mean, it makes sense that you can't have a thousand beautiful people all face the flash bulbs at the same time, because it could cause a rip in the space/time continuum (or something like that).  Before we know it, that line turns into a celebrity traffic jam of well-dressed, highly-groomed, statuesque folks being formed right before our very own eyes.  There they were: Kevin Spacey, Julia Roberts, Viola Davis, Kristen Wiig, Bob Odenkirk, Stephen Colbert… you get the idea. The stars are standing in front of us like common folks waiting for their turn at the commissary cafeteria.  Not a bad way to spend the day.  No complaints from us!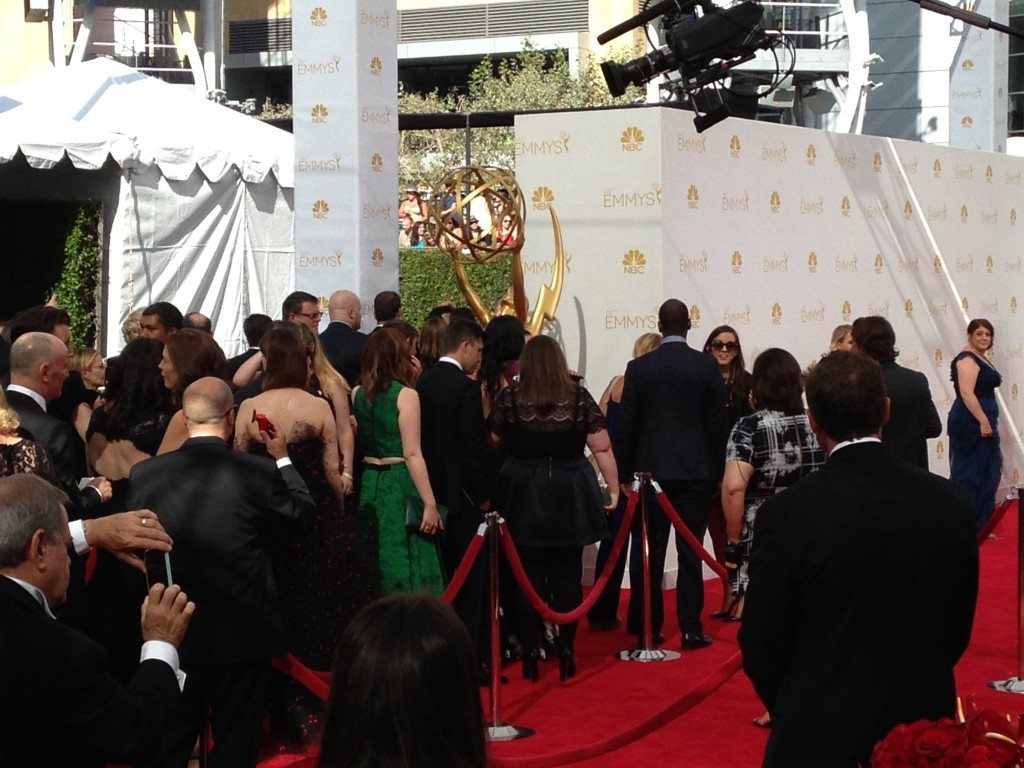 Celebs wait in line, just like us
After you've watched all of the @TiVo clips on Twitter, be sure to keep an eye out later this week on TiVo Collections (head to TiVo Central, select "Find TV, Movies, & Videos", and "Browse TV & Movies" > "Collections")for more of our conversations about what TV's elite attendees at the Emmy® Awards are watching on their DVRs.
* Emmy is a registered trademark of the National Academy of Television Arts and Sciences (NATAS). NATAS is not affiliated with TiVo and does not endorse TiVo products or services.