Top Streamed Games: World Cup 2014!
The World Cup is over and now we have to wait another 4 years for more of the thrilling goals, saves and futbol action!? Ahh, man. But while the final game already crowned our champion, there is still time to take a look at the World Cup as whole. Check out TiVo's Top Streamed Games of World Cup 2014:
The list includes Germany's thrilling defeat in extra time of Argentina in yesterday's final (#4) as well as the first World Cup match on June 12 when Brazil topped Croatia 3-1 (#9).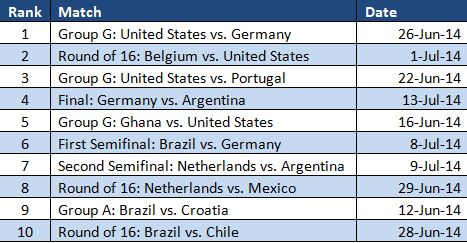 Method: Based on viewing data collected from an anonymous sample of ~25,000 households