He Said; She Said! The Living Room is Dad's Domain, Though Moms Beg to Differ
TiVo Releases Father's Day Survey Results
Dads rule the roost – or so they say – according to the first ever TiVo® Father's Day survey results released today.  The intriguing discovery comes just a month after the TiVo Mother's Day survey, which found moms believe they control the remote.  Most interestingly, both surveys found that 80 percent of dads and 80 percent of moms each believe they determine what the household watches on television.
The Father's Day survey found that nearly half the dads make sure they monitor what their kids watch, and that paying attention to ratings as well as their gut to determine what's appropriate is important.  More than half surveyed, 55 percent, claim that violent video games are worse for their kids, compared to violent television. Dads also stated they rely far more on their kids' maturity level (58 percent), not their age (42 percent), to determine the programs their kids watch.
Reality franchise "The Bachelor" and "The Bachelorette" top dads' TV guilty pleasures this year, while the "Big Bang Theory" is their favorite show to watch as a family.
Dads are five times more likely to channel surf compared to others in their household, with 84 percent claiming they surf TV more than their spouse. When given the choice of missing out on an entire season of their favorite sport or watching their wife's favorite show for an entire season, 77 percent said they would watch their wife's show so as not to lose out on their sports programming.
Other notable findings from TiVo's 2014 Father's Day survey include:
The Way to Dad's Heart is Through His Stomach
The gift at the top of dad's list this year for Father's Day? His favorite meal (35.3 percent), followed by three hours of quiet time (22.1 percent) and a night to catch up on his favorite show (19.4 percent)
Dads voted Rachael Ray the Food Network star they would most want to be their personal in-home chef (30.7 percent), with grill master Bobby Flay taking second place (29.3 percent)
2014 Hot TV Moms and Dads
Rick Grimes from The Walking Dead played by actor Andrew Lincoln won TV's sexiest dad of all time (32 percent), trailed closely by Mad Men's Don Draper, played by Jon Hamm (31.5 percent)
Don Draper was named the TV character dads most want to be (34.4 percent)
Gloria Delgado-Pritchett from Modern Family, played by actress Sofia Vergara is this year's hottest mom according to dads surveyed (34.6 percent), followed by Mad Men's Betty Draper (20.4 percent)
Dads Love DVR Functionality
Dads want their alone-time watching their favorite programming, with 52 percent stating they would rather record a game to watch it later than catching the highlights (49 percent)
When asked if dads prefer to talk and discuss a show while it is on, or wait until after the show, the majority said they prefer not to spoil the mood and talk later (41.9 percent), making DVR functionality even more valuable
The survey found a majority of dads are most likely to rewind and re-watch action scenes (24.9 percent) followed by sporting events (22.1 percent) and for the romantics out there, love scenes (15.5 percent)
Dads also reportedly watch TV mostly alone (42.3 percent), followed by with their spouse (35.5 percent) or their family (22.5 percent)
Dads Binge Behavior
According to the survey, the top type of shows dads most binge on are sports related (69.5 percent), followed by drama (57.7 percent), reality shows (46 percent) and sitcoms (43.5 percent)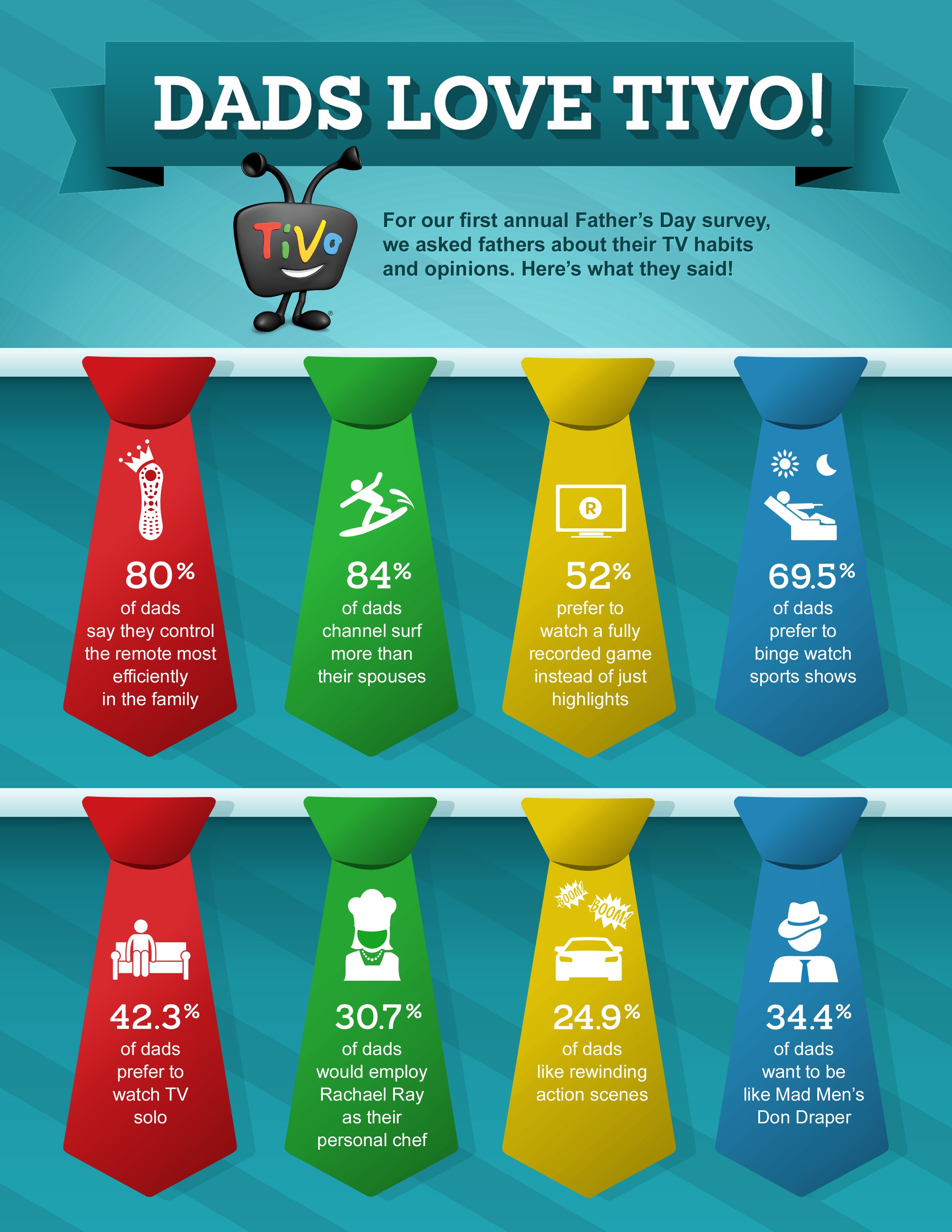 Survey Methodology
TiVo's Father's Day Survey was conducted online with a nationally representative sample of dads, ages 18-75. Survey responses were gathered from May 22 to May 23, 2014.  A total of 485 nationally representative dads, 375 with DVRs in their homes and 110 without DVRs.