"Moms Say…" TiVo's 2nd Annual Mother's Day Survey!
In preparation for Mother's Day, we have released our second annual TiVo Mother's Day survey celebrating everything from the best of TV moms and shows, to whether or not the kids have control over the remote.
Findings concluded that cooking shows like Top Chef were the most popular among 35 percent of moms polled – both to watch and participate in. One-third of the moms in the survey named Bobby Flay as their most wanted in-home personal chef from Food Network. Other fun findings include:
50.9 percent of moms said if they had their family DVR to themselves for a week, they would most likely use it to catch up on their own recorded TV shows.
For with their reality show viewing, 30.1 percent of moms prefer to snack on chips, while 29.5 percent prefer chocolate and 22.3 percent prefer cheese and crackers. What's your favorite snack?
The Big Bang Theory emerged as the top show respondents said their whole family enjoys watching together (22.5 percent), followed by American Idol (16.6 percent) and Modern Family (11.8 percent)
Moms are big on syndication, with Rachel Green (played by Jennifer Aniston) of "Friends," chosen as this year's all-time hottest TV mom.
The nostalgia continues with Jessie Katsopolis, (played by John Stamos) on "Full House," ranked as the all-time sexiest TV dad (34.7 percent)
Respondents said the best TV mom of all time goes to Clair Huxtable (played by Phylicia Rashad) of "The Cosby Show"
What about technology and kids? When it comes to kids, half (50 percent) of moms surveyed said their children know how to use their DVR better than they do. But according to results, moms are in control of the remote. Interesting right?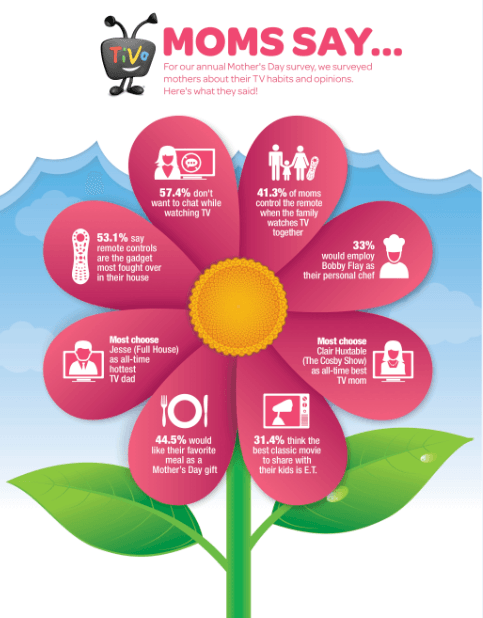 Survey Methodology
TiVo's Mother's Day Survey was conducted online with a nationally representative sample of moms, ages 18-75 and a representative sample of TiVo subscribers that who are moms.  Survey responses were gathered from April 4 to April 7, 2014.  A total of 453 nationally representative moms and 87 TiVo subscriber moms participated.
.