April 2nd is National Peanut Butter and Jelly Day!
April 2nd is National Peanut Butter and Jelly Day!
Do you prefer Skippy or Jif? Smucker's or Welch's? NBC's Dracula or ABC's Nashville?
The first documented mention of pairing peanut butter with jelly on bread occurred in 1901 when a writer in the Boston Cooking-School Magazine of Culinary Science and Domestic Economics penned: "For variety, some day try making little sandwiches, or bread fingers, of three very thin layers of bread and two of filling, one of peanut paste, whatever brand you prefer, and currant or crab-apple jelly for the other."
These days, the biggest selling brands of peanut butter include Skippy and Jif, and Welch's and Smucker's dominate sales of jellies and jams (though it's a safe bet that currant and crab-apple flavors are not found on most pantry shelves these days).  Since loyalties to specific brands run deep, we took a look at whether those with a preference for one brand over another favor different television programs.
In primetime, households that buy Skippy and NOT Jif like vampire programs (FOX's The Originals and NBC's Dracula) and comedies (FOX's The Mindy Project and New Girl, and NBC's Saturday Night Live).  The top program in households that buy Jif and NOT Skippy is ABC's Nashville, but this group also likes comedies (New Girl, Raising Hope and Enlisted on FOX, and Parks and Recreation on NBC).
When it comes to jams and jellies, homes that buy Smucker's and NOT Welch's are a dramatic bunch.  Top programs include four dramas: the now-cancelled Revolution on NBC, CW's Reign, CBS's The Mentalist and NBC's Grimm.  For laughs, they watch NBC's Saturday Night Live.  The program balance is completely opposite in homes that buy Welch's and NOT Smucker's:  CW's Supernatural tops the list, and is followed by four comedies: The Originals on CW, and Fox's Bob's Burgers, the Simpsons and Dads.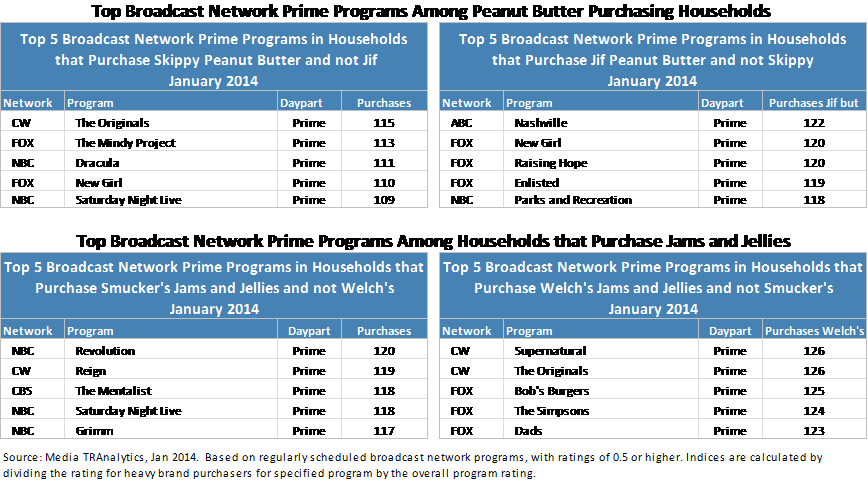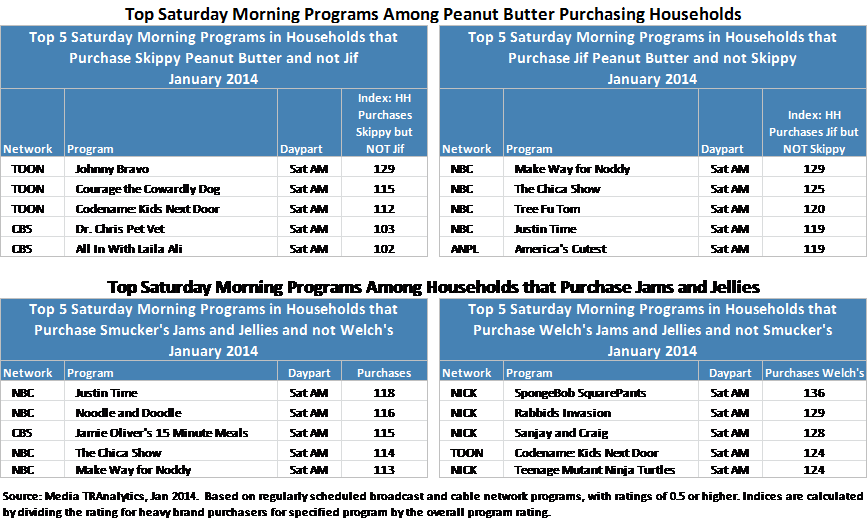 On Saturday mornings, an important viewing time for families with young children, pre-teens and teens, there are notable network preferences between Skippy and Jiff fans and Welch's and Smucker's fans.  In Homes that choose Skippy and NOT Jif, Cartoon Network programs and CBS programs top the list while in homes that choose Jif and NOT Skippy, NBC and Animal Planet programs claim the top five spots.  In homes that buy Smucker's Jams and Jellies and NOT Welch's, NBC and CBS take top spots while Nick and Cartoon Network take the top spots in homes that buy Welch's and NOT Smucker's.