TiVo Winter Olympic Coverage — Top Moments — February 23, 2014
As the 22nd Winter Olympics came to a close in Sochi, Russia – one thing was for sure – these Olympic Games will never be forgotten.  From the opening ceremony with technical issues to controversy over housing and facilities being subpar to the blood, sweat and tears from the athletes as new world records were created and childhood dreams came true; it all came to a close last night at the Closing Ceremony.
By no surprise TiVo's Top Moment of the Closing Ceremony came about 42 minutes into the ceremony when Russia poked fun at themselves and the most talked about moment of the opening ceremony when the last snowflake failed to open into the fifth Olympic ring. Russian President Vladimir Putin took the stage with International Olympic Committee President Thomas Bach and welcomed in the Olympic flag as the Moscow Children's Choir sang the Russian National anthem, which came in as the 2nd top moment. Julie Chu of the United States Women's hockey team stole moment number 3 as she took top honor and carried the USA flag in the parade of countries as they entered the stadium.  Rounding out the top five moments of the Closing Ceremony were those that highlighted Russian Culture and brought the most expensive winter Olympics to a close. Commentary by Cris Collinsworth and Vladimir Pozner was provided as fireworks lit up the sky and the top Russian ballet dancers performed a breathtaking and elaborate performance of Scheherazade.
TiVo's Top 5 Olympic Moments – February 23, 2014 – NBC Broadcast Prime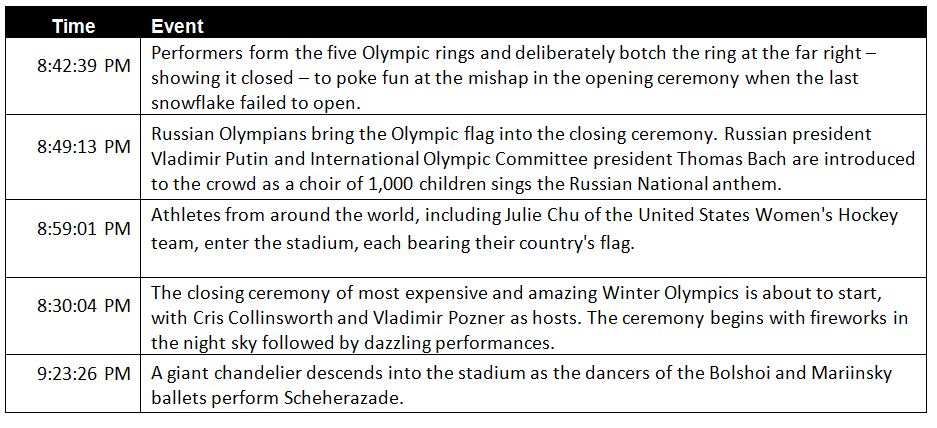 *Top 5 moments based on Live + Same Day Viewership of the Olympic games on NBC