TiVo Winter Olympic Coverage — Top Moments — February 19, 2014
While the Olympic buzz for Wednesday, February 19th included chatter about Team USA's Ted Ligety's performance in the Alpine Skiing: Men's Giant Slalom finals (he won the gold), and Bobsleigh: Women's Heat 4 (where USA's Team 1 of Elana Meyers and Lauryn Williams won Silver and which added Lauryn Williams to a short list of athletes to medal in both the Summer and Winter Olympic Games),  in the end the Top 5 Moments all occurred during NBC's coverage of the Figure Skating – Ladies Short Program.
The "Kiss and Cry" took center stage: this waiting area, where skaters and their coaches sit in anticipation of their scores, figured into four of the top five moments.   The top moment occurred when Team USA's Ashley Wagner, once again skating to Pink Floyd, was in the "Kiss and Cry" as her score, 65.21, flashed on the screen.  This time, no lip reading was needed; she smiled and appeared pleased with her score.  The second most-watched moment found South Korea's Yuna Kim awaiting her score; her jittery performance during warm-ups had everyone wondering if she would be in contention for a medal. As befits a true champion, Kim skated a graceful and flawless performance in competition and was awarded a 74.92.  This dominant score put her in first place heading into tonight's Figure Skating – Free Skate.
The only true action moment on the list was #3: Russia's young star, Yulia Lipnitskaya was breezing her way through a strong performance but fell while executing her final jump, a triple flip.  She will enter tonight's Figure Skating – Free Skate in fifth position.  Team USA's Polina Edmunds and Gracie Gold also made appearances in the top five moments, at #4 and #5, with their stints in the "Kiss and Cry."
 TiVo's Top 5 Olympic Moments – February 19, 2014 – NBC Broadcast Prime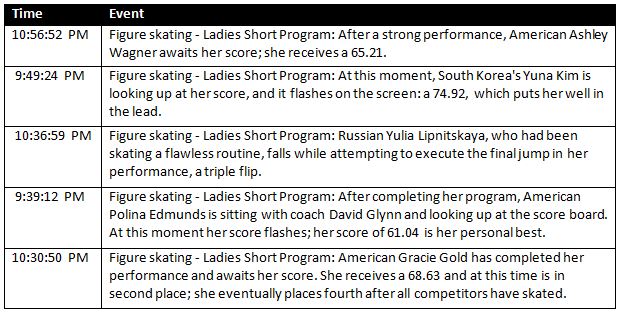 * Top 5 moments based on Live + Same Day Viewership of the Olympic games on NBC