TiVo Winter Olympic Coverage — Top Moments — February 18, 2014
An underdog makes the podium at the last second and a teenager places 5th in her Olympic debut. Team USA had a lot to be excited about regardless of not achieving Gold in last night's primetime coverage of the 22nd Sochi Winter Olympics. The show began with Men's Snowboard Cross, where Americans met 27 year old Alex Deibold, who spent the Vancouver Winter Olympics waxing Team USA's snowboards. In Sochi, he passed all of his qualifying rounds placing 3rd, and when it came to the finals there was no difference … well almost. Coming down the slope Deibold held onto 4th pretty comfortably, but in the last of the final turns, he made a move on France's Paul-Henri De Le Rue to land him a spot on the podium with Bronze. This 'edge of your seat' finale easily won last night's #1 TiVo Top Moment.
Following Men's Snowboarding was Women's Alpine Skiing in the Giant Slalom event, where 18-year-old American prodigy Mikaela Shiffrin was to make her Olympic debut. Her first run scored her in at our number 3 Top Moment and was solid enough to place her 5th in the overall event. Slovenia's Tina Maze put together a near flawless set of runs to achieve Gold and the 4th spot on our TiVo line-up.
TiVo's Top 5 Olympic Moments – February 18, 2014 – NBC Broadcast Prime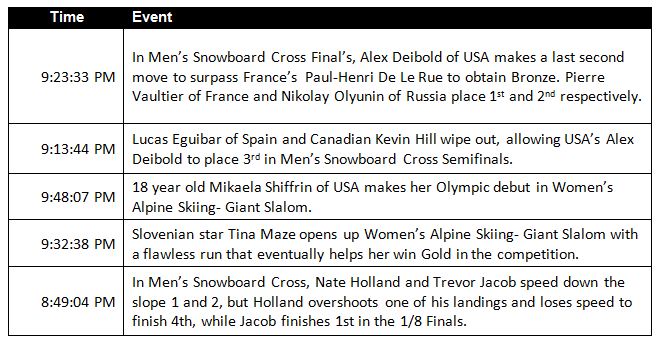 * Top 5 moments based on Live + Same Day Viewership of the Olympic games on NBC