TiVo Winter Olympic Coverage — Top Moments — February 17, 2014
It was a night for the record books as the most elegant and spectacular couples danced their way into our hearts and onto the podium in the Figure Skating – Ice Dance Free Dance.  The mesmerizing event dominated the night of viewership as top couples from the USA, Canada and Russia skated their hearts out to secure a spot on the podium.  Little did they realize that history was in the making.  Not to be outshined, the Bobsleigh Two-man Heat 4 was a nail-biter, leaving hearts pounding as not even a second separated the first and third place winners in this thrilling event.
Four of TiVo's Top Moments centered on the Ice Dance Free Skate – where Americans Meryl Davis and Charlie White were crowned the king and queen as they not only won gold but also set a new World Record with a flawless skate that left many speechless because of their true perfection and synchronicity on the ice.  Not so surprising, couples from Canada and Russia joined USA on the podium basking in the glory of sensational performances. Possibly the most talked about moment, is the 4th top moment belonging to the USA Bobsleigh Two-man Heat 4 as the team of Steven's – Holcomb and Langston – despite a calf injury to Holcomb, glided down the track and into the Bronze medal position – the first in 62 years for team USA in the event.
TiVo's Top 5 Olympic Moments – February 17, 2014 – NBC Broadcast Prime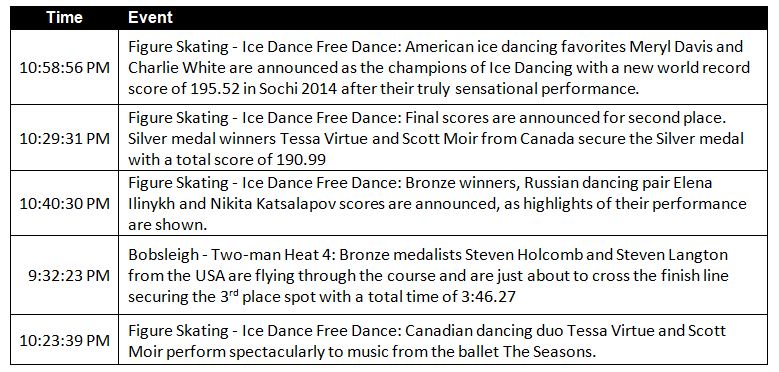 Top 5 moments based on Live + Same Day Viewership of the Olympic games on NBC