Sunday night's NBC coverage of the Winter Olympic Games from Sochi ran a full four hours and focused on several events where competitors from the USA again experienced thrills of victory or agonies of defeat—fortunately focusing more on the thrills than the agonies.
Last night's Top Moment was taken by an exciting and surprising Silver-Medal-Winning finish in the Alpine Skiing Men's Super-G by Team USA's Andrew Weibrecht. Though Weibrecht's performance was less highly anticipated than those of teammates Bode Miller and Ted Ligety, Weibrecht beat them both in the end, losing only to Gold medal winner Kjetil Jansrud of Norway. Miller did take a medal, however: he tied for Bronze with Jan Hudec of Canada. Ligety ended in 14th place and their teammate Travis Ganong ended 23rd.
The #2 Top Moment was another anticipated moment for Team USA: Defending medalists Steves Holcomb and Langton completed their second heat in the Men's Two-Man Bobsled. Unfortunately, they began the run with a slightly slow start and a small mistake on Turn 2, finishing with a time of 56.84 seconds and causing them to fall four-hundredths of a second behind the Swiss Team 1. Russia's Team 1 ultimately moved ahead of USA Team 1 in their second heat, which was shown moments later. Holcomb and Langton ended the day's competition in third place but with a solid shot at a medal in tomorrow's final heats 3 and 4.
The #3 and #4 Top Moments both celebrated Team USA's favored Figure Skating Ice Dancing pair, Meryl Davis and Charlie White. Top Moment #3 came at the end of a pre-cut video piece highlighting their performance in previous competitions. Both exuded confidence in their chances in Sochi. This optimism was borne out in Top Moment #4, which came as Davis and White looked up at the scoreboard following their fabulous Short Dance performance. The judges awarded them 78.39 points, the highest ever claimed in the event by 1.23 points.
Last night's #5 Top Moment came earlier in the Alpine Skiing Men's Super-G Final, in which Peter Fill finishes his run, moving him into second place with a lead with a time of 1:18:85. Fill's run is followed immediately by an unspectacular performance by Team USA's Ted Ligety.
Elsewhere in last night's Olympic coverage, Team USA suffered an agonizing loss in the Women's Snowboard Snowcross. With a huge lead in the Finals run and only two turns to go, Lindsey Jacobellis fell, reliving the agony of her fall in Turin in 2006 that also cost her a medal.
Earlier coverage on Sunday included another victory by the US Men's Ice Hockey team advancing in a 5-1 victory against Slovenia, advancing to the quarterfinals round to be held on Wednesday.
TiVo's Top 5 Olympic Moments – February 16, 2014 – NBC Broadcast Prime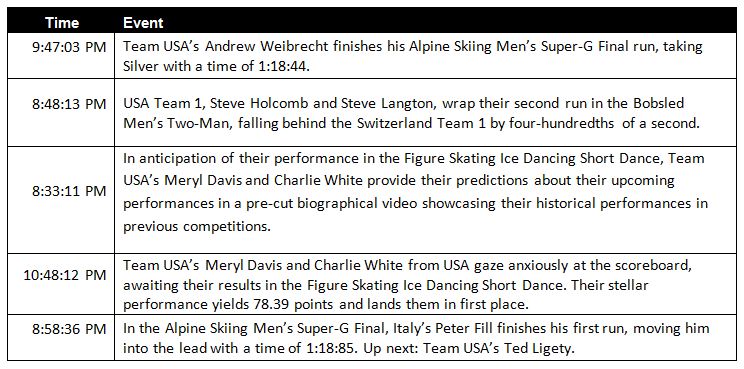 * Top 5 moments based on Live + Same Day Viewership of the Olympic games on NBC