TiVo Olympic Coverage – Top Moments – February 14, 2014
It was a night of firsts at 22nd Sochi Winter Olympics – first woman to ever anchor NBC's primetime coverage, Meredith Vieira; first Olympic gold medal for Japan in Men's Figure Skating, Yuzuru Hanyu – but for U.S. viewers the focus was on the end of an era.  At the age 36, this will undoubtedly be Bode Miller's final Olympics and Ted Ligety will be 33 when the torch is lit in PyeongChang South Korea in 2018.
Three of TiVo's Top Moments centered on Miller and Ligety's valiant efforts in the Men's Super Combined; both athletes came up short, finishing sixth and twelfth respectively.  There was some much needed love this Valentine's evening, though, as U.S. figure skater Jason Brown continued to charm the Sochi crowd with his Men's Free Skate program, despite a ninth place finish.  Rounding out the top five moments was U.S. figure skater Jeremy Abbott scoring a personal best 160.12 early in the Men's Free Skate competition.
TiVo's Top 5 Olympic Moments – February 14, 2014 – NBC Broadcast Prime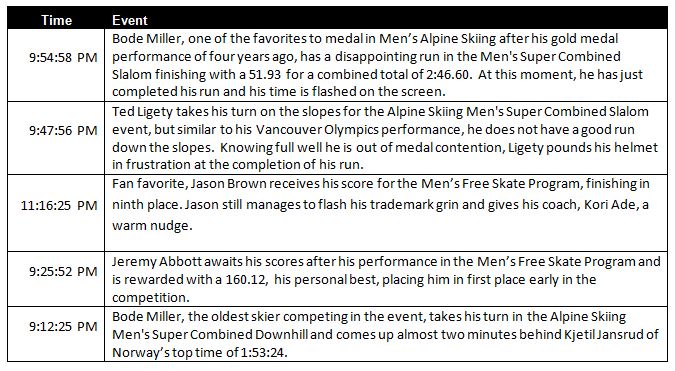 * Top 5 moments based on Live + Same Day Viewership of the Olympic games on NBC