Last night marked the start of the much anticipated Men's Figure Skating program, and fittingly, four of the five TiVo Top Moments were from this drama-filled event.
The Top Moment was during the performance of Jeremy Abbott, US Figure Skating champion. Abbott took a nasty fall while attempting a quadruple toe loop in the Men's Figure Skating Short Program. Instead of calling it quits, he continued to skate and finished his routine brilliantly. Abbott also nabbed the #3 Top Moment a few minutes later in the telecast as he looked up at the scoreboard after completing his program. He managed to score a 76.58 despite the fall, but more importantly won over the audience with his grit and "the-show-must-go-on" attitude.
The #2 Top Moment was the dramatic withdrawal of four-time Olympic medalist Russian Evgeni Plushenko from the Men's Figure Skating Short Program. Plushenko aggravated a back injury during warm-ups. He came center-stage, appearing to start his skate routine, but shocked everyone by announcing his withdrawal to the referees. The home crowd applauded as he took a final bow. He subsequently announced his retirement from the world of figure skating.
The #4 Top Moment belonged to American Nick Goepper, who had struggled with his first qualifying run in the Men's Freestyle Skiing Slopestyle competition. He nailed his second qualifying run with his version of a triple cork and went on to win the Bronze medal. Team USA swept the podium in this Olympic debut event, with Gold for Joss Christensen, Silver for Gus Kenworthy, and Broze for Nick Goepper.
The #5 Top Moment was also from the action-packed Men's Figure Skating Short Program. 19 year old US figure skater and fan favorite Jason Brown skated his entertaining and quality routine, and looked delighted with his 86.00 score, his personal best!
The other notable highlight of the Men's Figure Skating event was the spectacular and effortless short program by Japanese champion, 19-year-old Yuzuru Hanyu, who became the first figure skater to surpass a 100 point score (the highest score ever recorded in a short program)!
TiVo's Top 5 Olympic Moments – February 13, 2014 – NBC Broadcast Prime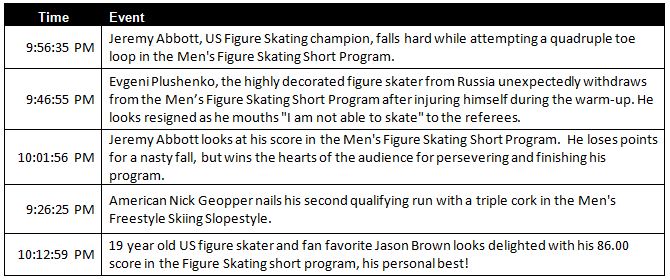 * Top 5 moments based on Live + Same Day Viewership of the Olympic games on NBC