Last night's Winter Olympics Top Moments were a full house of Figure Skating Pairs Free Skating and Women's Alpine Skiing Downhill Finals. The Free Program was night #2 of the Pairs Free Skating event ; the Russians placed a somewhat surprising first and second after a disappointing third-place performance by Savchenko / Szolkowy of Germany that included two falls. The American team of Castelli and Shnapir showed well; their solid performance earned them a 9th place finish.
The Women's Downhill ended in a surprise tie for the Gold: American Julia Mancuso was, as this event unfolded, one medal away from tying the record for most Olympic medals for any American alpine skier.
The  #1 most-reviewed Top Moment of last night's NBC primetime Olympics coverage showed Pairs Free Skating favorites Tatiana Volosozhar and Maxim Trankov (Russia) living up to the hype and delivering a flawless performance to receive the top score.
Top Moment #2 showed Dominique Gisin of Switzerland smiling ear-to-ear while recounting the road to her gold medal in the Women's Downhill, including shots of her purportedly breaking the news to her grandparents over the phone.
Top Moment #3 also fell during Pairs Free Skating, showing, in slow motion and with commentary, Savchenko / Szolkowy of Germany's two falls in the Free program. They provided no big reaction while receiving their score of 136.14, which earned them the bronze.
The #4 Top Moment was in the Women's Downhill, showing Team USA's much-decorated Julia Mancuso taking another shot at a medal. Unfortunately, this was not one of her best runs: Even while catching some major air, she could not make up for time lost early in the run and was thrown wide on a few turns, ending almost one second behind the winners.
Rounding out last night's Top Moments at #5 was a good performance by American Pairs Free Skating team Castelli and Shnapir. They successfully landed their throw quad Salchow (a first in Olympic competition) and earned a personal best score in international competition of 120.38.  They finished the event in 9th place overall.
Elsewhere in yesterday's competition, Men's and Women's Curling held Round Robin sessions, Men's and Women's Ice Hockey held Preliminary Rounds on the way toward medals.  Finals in the Women's Snowboard Women's Halfpipe, Luge Doubles and Nordic Skiing Combined Individual Gundersen NH / 10 km finals also failed to make the 5 Top Moments.
TiVo's Top 5 Olympic Moments – February 12, 2014 – NBC Broadcast Prime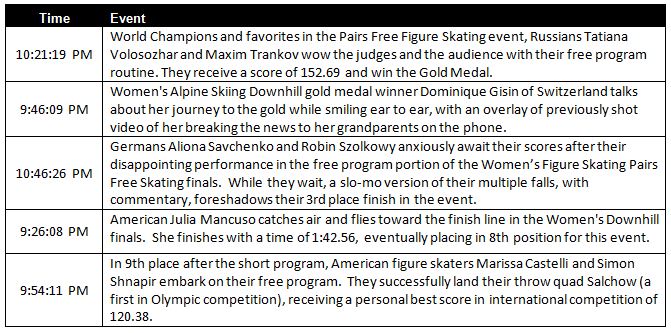 * Top 5 moments based on Live + Same Day Viewership of the Olympic games on NBC