Sochi 2014 Olympics Coverage: Top Chills, Thrills & Spills!
We can look back on the past 17 days of Winter Olympic coverage and know that there were moments where we laughed, moments where we gasped, and moments where we might have even been, well… bored. But what were the Top emotion-provoking Moments of them all? TiVo Research and Analytics took a look at the Top 5 Chills, Top 5 Spills and Top 5 Thrills of the 2014 Sochi Winter Olympic competition. Here they are:
TiVo's Top Olympic Moments – NBC Broadcast Prime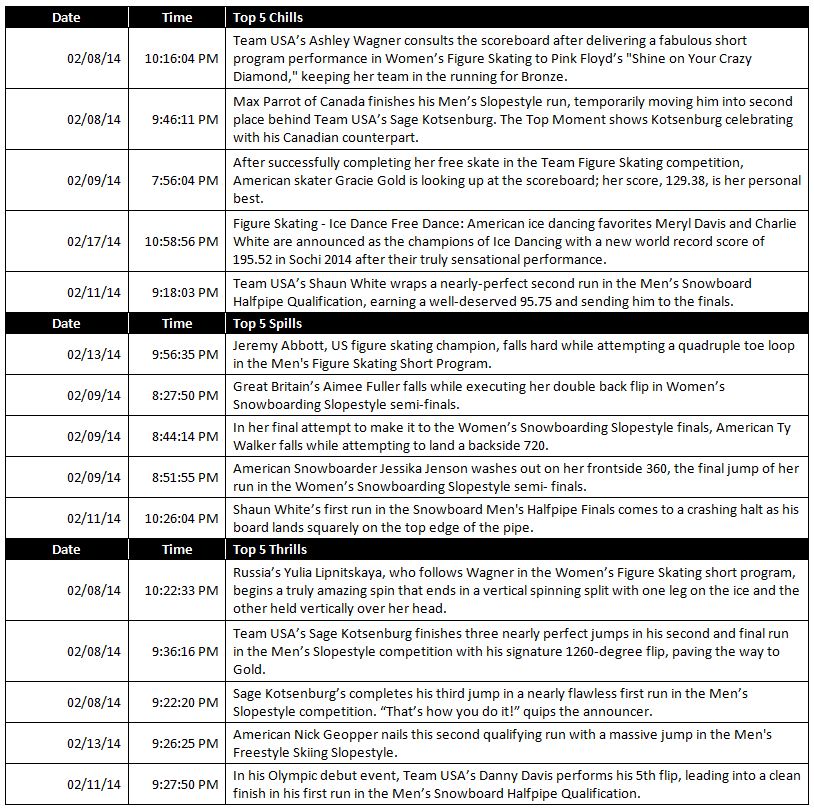 * Top moments based on Live + Same Day Viewership of the Olympic games on NBC
Methodology: TiVo Research is the only second-by-second audience research service which ranks top moments based on retention and viewership relative to the program viewership numbers. TiVo Research's analysis was prepared using aggregated, anonymous, second-by-second audience measurement data from a sample of 350,000 anonymous households with the Emmy-award winning TiVo® service. TiVo Research gauges the interest in programming content by measuring the percentage of the TiVo audience watching in "play" speed. The most engaging moments are determined by looking for spots with the biggest bump in viewership relative to the surrounding 15 minutes of programming, offering a true reflection of change in viewership.