TiVo Subscribers Tend to Binge – Here's How & On What
Binge-watching is a term that was made even more popular in the last year. Defined, it is the act of watching multiple episodes in one sitting. It's also a TiVo lover's not-so-secret pleasure. It turns out that in a recent study, 89% of TiVo users binge-watch shows. We also found that one in four hour-long TV programs was viewed by binging and nearly one-fifth of 30-minute programming was viewed in a binge-watching fashion.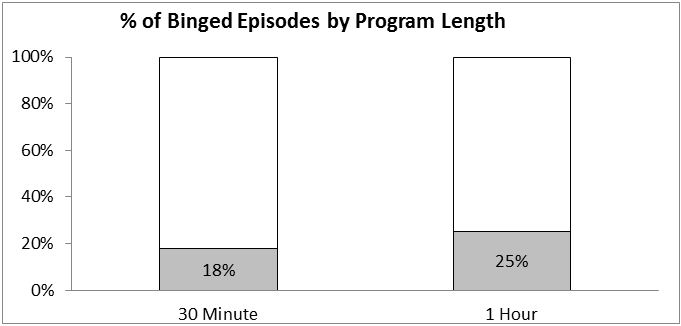 Binging habits are fairly consistent across weekdays, with a slight (4%) increase on the weekends. The two most predominantly-binged genres are dramas and crime dramas, followed in popularity by reality, sitcoms and home improvement programming. Can you guess what show in 2013 was most binge-viewed? The top five binged programs during the survey period were:
| | | |
| --- | --- | --- |
| Rank | Network | Top Binged Programs Aug-Oct 2013 |
| 1 | AMC | Breaking Bad |
| 2 | ABC | Castle |
| 3 | CBS | NCIS |
| 4 | NBC | Law & Order |
| 5 | AMC | The Walking Dead |
Binge-viewing between August and October 2013 was influenced significantly by the availability and seasonality of TV programming schedules (eg: approaching season finale of Breaking Bad and Season Premiere of the increasingly popular Walking Dead). The remaining three can be attributed to a very consistent structure from one episode to the next and minimal story arcs extending across programs, making them easy to follow even if they're viewed out of sequence.
What else did we learn about the art of binging? Most viewers chose to binge-watch shows alone. More than half of the respondents reported they rarely binged a show with anyone else because they're trying "to catch up on missed episodes," followed closely by "to improve the viewing experience and maintain continuity." So that begs the question: Which shows will you binge-view in 2014?
TiVo's viewership analysis is based on aggregated, anonymous, second-by-second audience measurement data from a sample of 171,709 anonymous households with the Emmy-award winning TiVo® service. The analysis compared set-top box viewing from live to seven days of time-shifting, from August to October 2013. TiVo also conducted an online survey of 23,180 households from March through April 2013. Of the survey participants, more than 95 percent were TiVo subscribers; the remaining participants were recruited online.