Meet Roamio! The Ultimate Love Affair.
The latest and greatest addition to the TiVo family is here!  Let us introduce you to the TiVo Roamio™ DVR; it's time to fall in love.
Roamio is the only box that allows you to watch live TV and the Web from a single interface. No more fighting over the remote, no more deciding what show to watch and no longer picking just one spot to watch TV.
New product features:
Depending on model, Roamio can record up to 6 shows at once with memory for up to 450 hours of HD and 3,000 SD hours of programming.
You can stream live and recorded shows to your iPad® or iPhone® to watch anywhere around the house.
New look and feel interface offers updated HD screens and fonts with nearly twice the performance. Browse and Search content even faster.
"What to Watch Now" provides an instantaneous personalized dashboard that immediately shows you the best programming available…right now.  Quickly browse through the best sporting events, top 20 shows in that time slot.
For users who just like a good channel guide, Roamio offers guide filters to quickly break down the options into only content you want to see.  Choose to browse the guide by something as simple as Movies or Sports, or as specific as romantic comedies.
All new application platform – leveraging the new HTML 5 platform to support our apps, including the HTML 5 version of YouTube and we've worked closely with Netflix to launch their latest app on this platform.
The improved remote boasts an RF connection, allowing Roamio to be placed behind closed cabinets or in another room altogether – no line of sight is needed to operate your TiVo. Still, the remote retains the capability of learning commands to control all of your other equipment, allowing for the true one-remote solution.
Anywhere you have an Internet connection, you have the ability to manage your TiVo preferences with your phone or tablet. The updated free TiVo mobile app available for tablets and smartphones (iOS and Android) offers remote Season Pass® management, a recording scheduler that allows you to add or remove recordings and enhanced WishList® management.
TiVo Mini software has been updated to include Netflix and "dynamic tuning" to maximize the value of Roamio's capacity. This feature allows all of Roamio's tuners to be used for recording when they aren't actually streaming content to another screen. It's the ultimate whole-home DVR experience.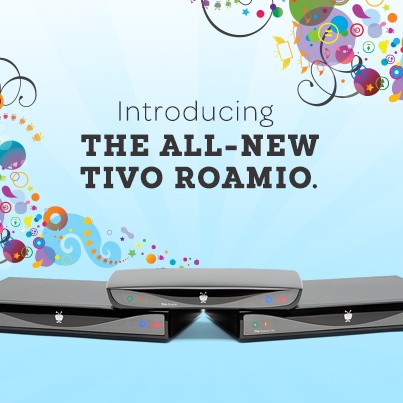 Visit TiVo.com/shop/roamio for more information that will make you fall even deeper in love with Roamio. Are you the ultimate TV lover?