Top Five Moments of The Voice and The Automobiles Owned by Fans of The Program.
This week, America voted in this season's winner of The Voice. Jam-packed with performances from music legends Bob Seger, Bruno Mars, Cher and more, the season finale was one not to miss. Up against Team Usher's Michelle Chamuel, Blake Shelton had some real competition, but the odds were in his favor with two contestants, The Swon Brothers and Danielle Bradbury, in the top three.
Left in the hands of the fans to decide, the youngest of all contestants, sixteen year old power vocalist, Danielle Bradbury, pulled off the big win giving Blake Shelton a threepeat triumph for The Voice in its 4th season.
What are fans of The Voice driving?
Before Danielle was announced as the winner, program sponsor Kia Motors presented her with her very first car, along with giving Michelle and The Swon Brothers their pick of the Kia line-up of vehicles. This branded integration caught the eye of our team at TiVo Research and Analytics (TRA), so we decided to look further into the auto ownership of households that have tuned in to The Voice.
Using TRA's "TV Auto Ratings" application, we looked at viewing of The Voice among Kia and selected brand owners who purchased new vehicles between 2008 and 2012.
We found that Kia hit the nail on the head in terms of choosing The Voice for their branded integration to showcase their line-up in front of the right purchaser targets.
Here's how the data breaks down: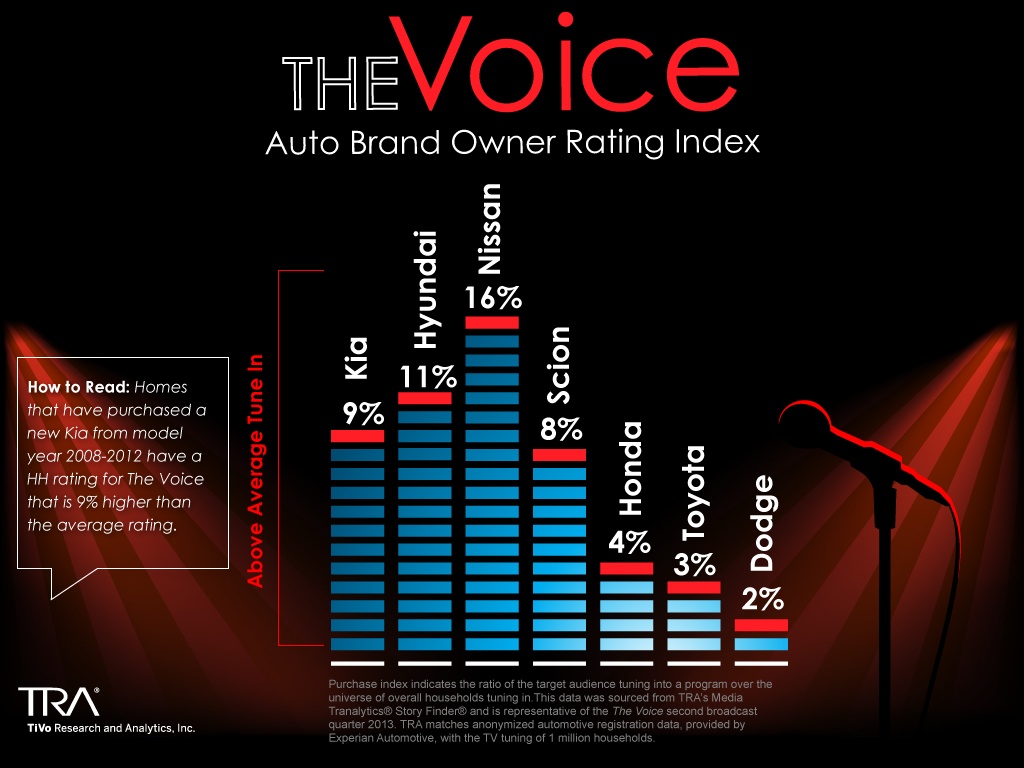 What were the top viewed moments of the finale?
Because the finale was full of so many great performances, we also looked into the top five moments of last night's show. Here they are in rank order:
The big reveal – Danielle Bradbury, at 16 years old, becomes the youngest winner to win the voice, giving Blake Shelton his third win in season four of the show
Cher's performance – the 67 year old singer debuted her new single "Woman's World" and sang on live TV for the first time in 10 years
Coach Spelling Bee – All the coaches were put on the spot after a segment that poked fun at Shakira's interesting way of speaking English, and were asked to spell a few difficult words, which proved more difficult than they thought
Bob Seger Performance – Bob Seger performed his song "Night Moves" with the Swon Brothers. The Swon brothers and Blake Shelton are big Seger fans
Danielle Bradbury performs "American Girl" – Danielle Bradbury performs Carrie Underwood's "All American Girl" with four former contestants from this season. Carson Daly called it "the definition of adorable"
If you'd like to take a deeper dive into the types of audiences that are tuning in to The Voice or any other program, contact us info@traglobal.com.
This blog post was originally published at the TiVo Research & Analytics blog.