TV Reunions: We Can't Get Enough of These Casts!
While recent rumors about a Friends reunion were sadly squashed by Warner Brothers, we can't help but reminisce about some of our favorite TV casts reunions. Jerry Seinfeld (Jerry Seinfeld), George Costanza (Jason Alexander), Elaine Benes (Julia Louis-Dreyfus) and Cosmo Kramer (Michael Richards) made us laugh once again on Curb Your Enthusiasm. The season seven finale featured a fictional Seinfeld reunion show with the original cast and was aptly titled "Seinfeld." There was also a mini Will & Grace reunion on Smash when Sean Hayes guest-starred in a multi-episode arc in Season 2. And who could forget how everyone's favorite Manhattan ladies participated in two Sex and The City films since the show ended in 2004.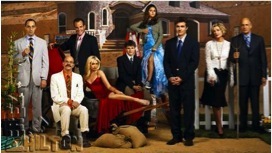 There are also some upcoming reunions we can't wait for! The highly anticipated Boy Meets World spinoff is currently in production. In Girl Meets World, a decade has passed and Corey Matthews (Ben Savage) and Topanga Lawrence (Danielle Fishel) are raising their two children. Despite being cancelled seven years ago, 15 new episodes of Arrested Development will be released on Netflix during Memorial Day weekend. Stars Jason Bateman, Portia de Rossi, Will Arnett, and Michael Cera are also expected to reunite for a film adaptation of the popular television show. After a successful $5.7 million Kickstarter campaign, Kristin Bell and the cast of Veronica Mars will be returning for a film adaption of the show. Fans, Thank yourselves for that one and here's to hoping that the Friends creators and cast have a change of heart!