These TV Starlets Are All Grown Up in Spring Breakers!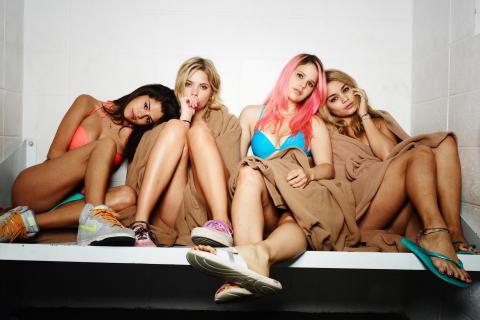 You may recognize the faces of the stars in the controversial new film Spring Breakers from their TV roles! Selena Gomez stars as magical teen Alex Russo on the Emmy award-winning television series Wizards of Waverly Place while Ashley Benson plays the secret-keeping Hannah Marin on the hit mystery-thriller Pretty Little Liars. Both actresses are breaking out of their high school TV personas in this mature, dark comedy.
After premiering at the 69th Venice International Film Festival and screening at SXSW last week, Spring Breakers opened in limited release today. The film features four friends (Selena Gomez, Vanessa Hudgens, Ashley Benson, Rachel Korine) who rob a bank to fund their spring break trip. Once they get to Florida, the trouble continues when they get intertwined with local thug Alien (James Franco). So far the film has received mostly positive reviews with a Rotten Tomatoes score of 70%.