Which Super Bowl Commercials Made Our List Of Most Re-Watched?
Our annual list of the top ten most engaging Super Bowl commercials shows there can be just as much action off the field as there is on!
Taco Bell's "Viva Young" was the champion of the night. Whether audiences couldn't get enough of Fun's Spanish rendition of "We Are Young" or enjoyed watching seniors take part in youthful shenanigans, it was the most re-watched ad by TiVo viewers.
User-generated ads emerged as big winners with Doritos' crowed-sourced "Goat For Sale" and "Fashionista Daddy" nabbing second and fourth place. Fans also had a hand in voting for the dramatic ending of Audi of America's "Prom" which landed in ninth place. Another big trend was online teasers. Previews of nine of the ten top ads were available prior to the game, including #10-ranked Volkswagen's "Get In. Get Happy" which garnered more than 8,373,067 views on YouTube before the live airings.
Here are the top ten commercials from Super Bowl XLVII*:
Did your favorite make it on the list? Tell us @TiVo which commercial was your favorite and include #BestCommercialEver – you could win an insane TiVo prize package just by sharing your thoughts – we want to know! Check here for more details. The most engaging ads are determined by looking for spots with the biggest bump in viewership relative to the surrounding 15 minutes of programming, offering a true reflection of change in viewership. Here you can see the second-by-second analysis: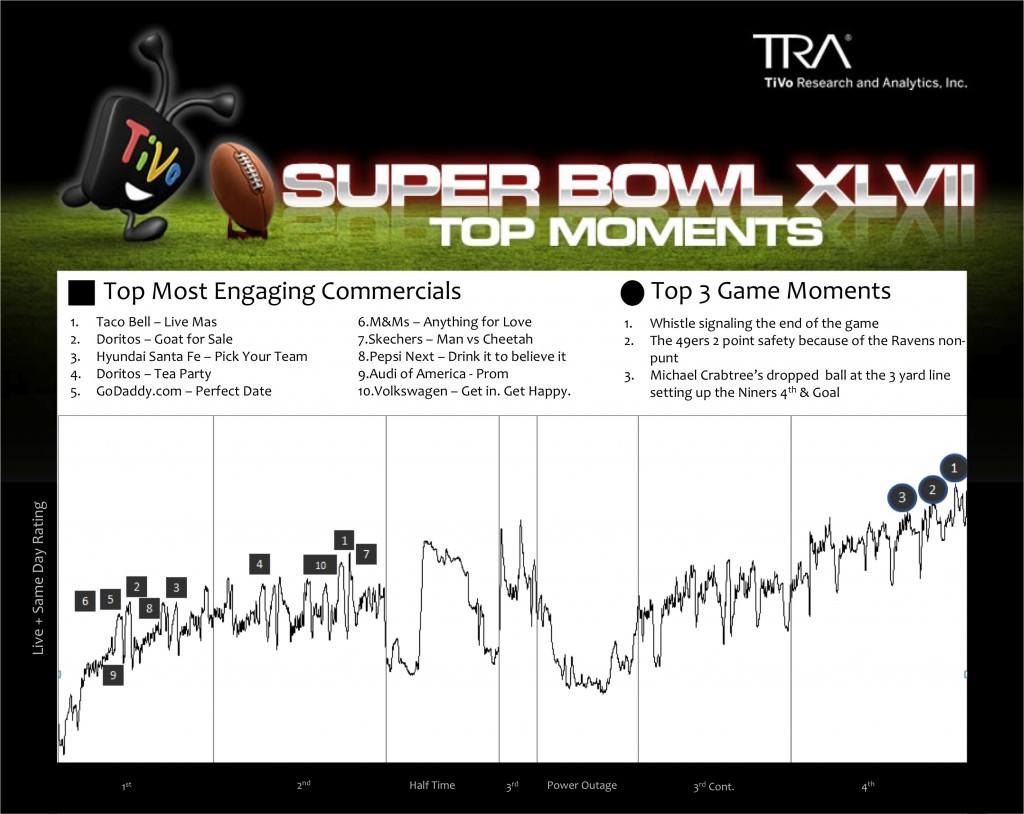 If you can't get enough of Super Bowl commercials, take a look at the top ads over the last decade:
For more information from TiVo on Super Bowl and other audience viewership, visit stopwatch.tivo.com.
* TiVo's TRA is the only second-by-second audience research service which ranks these top ten commercials based on actual commercial retention and viewership relative to the program viewership numbers.