We Heart Joshua Malina
This is a contributed blog post by Actor Joshua Malina.
Hello. I'm Joshua Malina, and I'm a Tivo-holic. I'm the classic "early adopter." I was working on Sports Night back in 1999 when I first heard about TiVo and its new-fangled dvr technology. I read a description of the product to the cast and said "I'm getting that today." I've owned a TiVo ever since.
I was delighted when they asked me to write a blog post. And the topic? My favorite roles. Great. As a longtime fan of my own work, it's the perfect assignment.
I'll start with Sports Night. Created by Aaron Sorkin  — one of my oldest friends, and my personal arts patron — the show was a look behind-the-scenes at a cable sports show. I got to play Jeremy Goodwin, a young, neurotic, Type A sports genius who gets hired in the pilot as an Associate Producer. The whole SN experience was a blast. It was my first steady t.v. gig, and I made lifelong friends with the kick-ass cast. Fun Fact: I read several times for the role of "Dan Rydell," losing out to Josh Charles before getting hired to play "Jeremy."
Up next…more Sorkin! In 2001, I was out of work when I read in Variety that Rob Lowe was thinking about leaving The West Wing. I dashed off an e-mail to Aaron, pitching myself as "less well-known, less-handsome, and willing to work for less money." Boom. Hired. It's an actor's dream to have a writer like Aaron tailor make a role for you. The character of Will Bailey was my second shot at it. I have been beyond lucky to have a friend like him.
In terms of movie roles, Bulworth was one of my favorites. Warren Beatty is a bit of a mad genius, and working with him was an adventure. In my favorite scene, Oliver Platt and I are locked in a bathroom with a bunch of cocaine. I have no dialogue, and while he's ranting and raving, I am desperately trying to score a line. Fun Fact: Production and post-production on the movie was an incredibly long process. I was single when we began shooting, and I brought my wife and newborn baby to the premiere!
Last up, I'll go with my current gig – SCANDAL. Having appeared on Grey's Anatomy and Private Practice, I was very excited to jump full time into Shondaland. Shonda Rhimes is so sharp, and so imaginative. There is absolutely no predicting where she'll take the show from episode to episode, which makes it a blast to watch and to act in.
Recently, through Twitter (@joshmalina), I have been made aware that certain users are seeing this: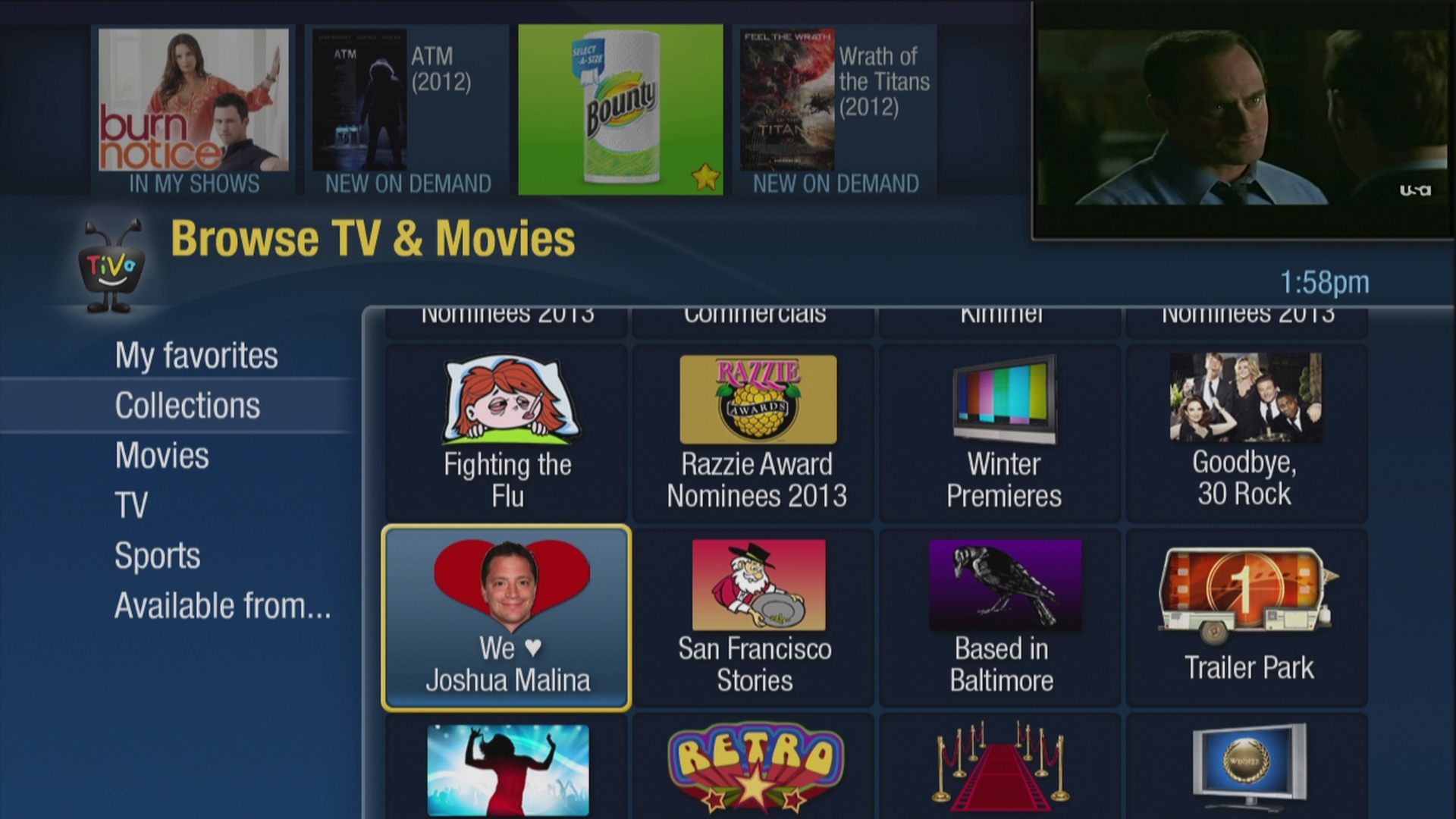 Apparently, you can click on that and see some of the things I've appeared in. Let me return the compliment: I heart TiVo.