#BestCommercialEver Big Game Giveaway!
When all is said and won, the best part of the Big Game is watching the commercials. We want to know what your favorite commercials are. Starting at 12PM on February 2nd, viewers will have the chance to win Super Big in our #BestCommercialEver Big Game Giveaway!
Tweet @TiVo with the hashtag #BestCommercialEver and a little bit about your favorite commercial from the Big Game. One lucky grand prize winner will receive a year of TiVo service, TiVo Premiere 4, TiVo Stream,  a touchscreen tablet and more. 15 lucky Tweeters will also win prizes including TiVo swag, Hulu Plus and Spotify services.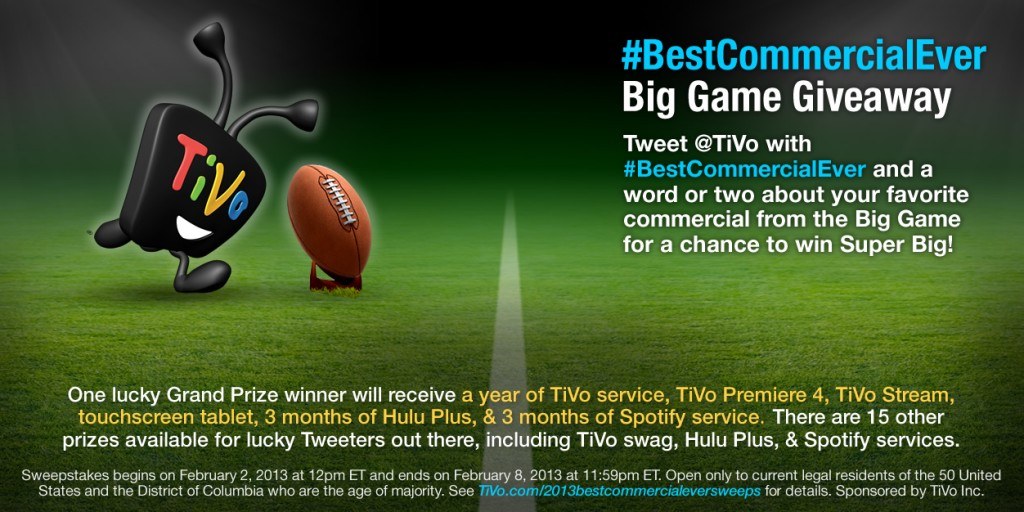 This year Big Game ad prices hit a record high of $4 million on average for each 30-second spot. This is up $500,000 from last year! Despite the hefty price tag, brands are flocking to entertain Big Game viewers. This year's commercial trends include pre-game online teasers, longer commercial lengths, choose your adventure formats and celebrities.
Here are some commercial highlights to look forward to:
Audi and Coca-Cola are getting interactive by allowing viewers to vote for the ending of their Big Game ads. Which one will you choose?
In addition to singing in the halftime show, Beyonce will star in one of Pepsi's ads. Other celebrities will also be making appearances in this year's Big Game commercials. You can expect to see PSY for Wonderful Pistatios, Amy Poehler for Best Buy,  Kate Upton and Usher for Mercedes-Benz, Tracy Morgan for Kraft, Bar Refaeli and Danica Patrick for Go Daddy, Jimmy Cliff for Volkswagen, Seth Rogen and Paul Rudd for Samsung, the Rock for the Milk Processor Education Program and Kaley Cuoco for Toyota.
While many of these brands make an annual appearance, Calvin Klein and Speed Stick will be debuting ads during the Big Game for the first time. We're excited to see their fresh ideas!
Enjoy the commercials and remember to tell us your pick for #BestCommercialEver by February 8th!
See tivo.com/2013bestcommercialeversweeps for more details about the #BestCommercialEver Big Game Giveaway.