Italian. It's What's For TV Dinner!
Who's up for Italian tonight? If you're thinking that is code for pepperoni pizza or a plate of spaghetti at your neighborhood Italian joint, you're wrong. It's okay, we love those dishes too, but it's time to branch out and see what else Italian food has to offer.
That is where we come in! Lidia's Italy with Lidia Bastianich, Ciao Italia with Mary Ann Esposito and Everyday Italian with Giada De Laurentiis are shows that will get you questioning if you're part Italian too.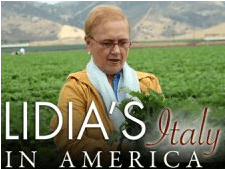 Lidia Bastianich shares recipes from all regions of Italy from Abruzzo to Veneto, but the most important thing she shares is culture. This woman is passionate about educating her audience about Italian cooking and language, while encouraging everyone to bring that culture into their homes. Her kitchen is warm and inviting which makes it easy for you to tune in, either to grab a few Italian recipes or to spend time with the Italian grandmother you never had. TiVo her episode on December 29th at 2 AM or 5:30 AM on PBS for some Italian inspiration.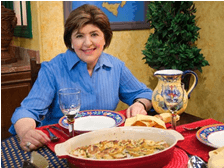 Mary Ann Esposito's Ciao Italia is America's longest running cooking show, featuring over 30 different categories of Italian food ranging from pizza and pasta to frittata and farro. It is obvious that she has been doing this for a long time as she gently guides you around her kitchen with her Italian accent sharing family secrets like her homemade Tagliatelle pasta that goes best with her classic bolognese sauce. Pizza di Nonna Saporito is the most simple and, according to Mary Ann's father, the best pizza out there. Check your local listings for Ciao Italia weekdays on PBS.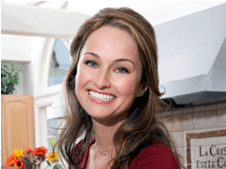 Giada is the bright and bubbly Italian chef who brings Italian cooking from Rome, where she was born, to your living room. She inspires with fresh dishes and shows how easy it is to be Italian yourself. Catch Giada's episodes this week Wednesday through Friday at 2 and 2:30 PM on the Cooking Channel.
Tune in to all three of these Italian cooking shows to take the first steps in starting your Italian cultural experience. Buon appetito!