TV This Week – 11/5/12
MONDAY – Anthony Bourdain: No Reservations (Series Finale) – Travel – 9PM
 The popular food show highlighting world cuisine comes to a close after it's seven year run.  The show will conclude in Mr. Bourdain's hometown, Brookyln, New York.
This man is to food as Steven Spielberg is to filmmaking; he is an innovator and tastemaker. The closing of his show truly marks the end of an era.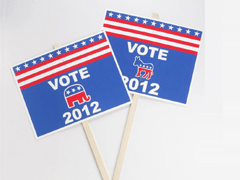 TUESDAY – Election Night Coverage – CNN – 6PM (Plus All Other Major Networks)
Most news channels will be running live twitter feeds along with live streaming coverage so that people can join the conversation from just about anywhere. Barack or Romney, tune in with the rest of America as individuals cast their vote for the next President of the United States.
WEDNESDAY – American Horror Story: Asylum – FX – 10PM
 The Ryan Murphy horror show is all the talk of cable television right now. Love him or hate him, he's a man who truly knows how to diversify his productions (ex. Glee, The New Normal, Nip/Tuck). This episode will be a two-part journey following a patient who claims to be Anne Frank; people might think she is crazy but she holds the key to the secrets of Arden's past.
THURSDAY  – The Big Bang Theory – CBS – 8PM
 Bazinga! If you aren't already a fan of CBS's hit sitcom, this is the time to tune in – we have no doubt this week's episode will win you over. Why? Reading Rainbows' very own LeVar Burton is guest starring!