TiVo #1000xBetter Twitter Sweepstakes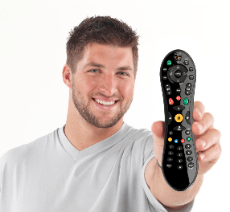 We love TiVo, we know Tim Tebow loves TiVo, but tell us why you love TiVo on Twitter! Enter our sweepstakes to win a prize autographed by Tim Tebow himself! Tweet @TiVo and use #1000xBetter to tell us how TiVo makes your TV better!
Looking for more Tim Tebow trivia? Check out Tim's TiVo on Facebook for exclusive content, like which actor he would like to be and if he's ever thrown anything at his TV!
For more information see the Official Rules below.
THE TIVO® #1000XBETTER SWEEPSTAKES OFFICIAL RULES
NO PURCHASE OR PAYMENT NECESSARY TO ENTER OR WIN. The TiVo #1000xBetter Sweepstakes (the "Sweepstakes") begins on November 14, 2012 at 8:00 a.m. Eastern Time ("ET") and ends on November 28, 2012 at 11:59 p.m. ET (the "Sweepstakes Period"). The Sweepstakes is sponsored by TiVo Inc., 2160 Gold Street, Alviso, CA 95002 ("Sponsor").
1. ELIGIBILITY. The Sweepstakes is open only to current legal residents of the 50 states of the United States and the District of Columbia who are the age of majority in their respective jurisdiction at the time of entry. Sponsor and its advertising or promotion agencies, those involved in the production, development, implementation or handling of this Sweepstakes, any agents acting for, or on behalf of Sponsor, its respective affiliates, subsidiaries, licensees, service providers, and any other person or entity associated with this Sweepstakes are referred to as the "Sweepstakes Entities." Employees, officers, and directors of the Sweepstakes Entities and members of their immediate families (spouses, children, siblings, parents and their spouses), and/or persons living in the same household as such persons, whether or not related, are ineligible to enter this Sweepstakes.
2. HOW TO ENTER. Internet access and a Twitter account are required to enter. You must also follow the @TiVo Twitter account. To enter, send a tweet with the hashtag #1000xBetter and @TiVo during the Sweepstakes Period. Retweets of the same Tweet by the same Twitter account holder, automated tweets or tweets sent via a bot will be disqualified. Users who use multiple accounts to enter this Sweepstakes will be disqualified. (Note: You will need to create a Twitter account to participate if you don't already have one. There is no cost to create a Twitter account.) BY TWEETING THE SPECIFIED HASHTAG YOU AGREE TO THE TERMS OF THESE OFFICIAL RULES. All entries submitted in accordance with these Official Rules shall be hereinafter referred to as "Eligible Entries" or each an "Eligible Entry." Each Eligible Entry will count as one (1) entry into the Sweepstakes. Limit one (1) entry per person per day. For purposes of this Sweepstakes, a day is the period between 12:00 a.m. ET and 11:59:59 p.m. ET. Each entrant must be the rightful owner of the Twitter account from which the Tweet is sent. In the event of a dispute as to the identity of the winner, the winner will be deemed to be the authorized account holder of the Twitter account from which the Tweet is sent. Sponsor will not verify receipt of entries. Questions regarding this Sweepstakes should be directed to Sponsor by sending your question to: TiVo 1000xBetter Sweepstakes, P.O. Box 2160, Alviso, CA 95002.
3. PRIZE DRAWING AND NOTIFICATION OF CHOSEN ENTRANTS. A random drawing will be conducted on or about November 30, 2012 from among all Eligible Entries received during the Sweepstakes Period to award the prizes. Selected entrants will be notified by a direct message on Twitter and will be required to respond (as directed) to the message within 72 hours of attempted notification. Failure to respond timely to the notification may result in forfeiture of the prize and, in such case, Sponsor may randomly select an alternate entrant from among the remaining Eligible Entries. Selected entrants may also be sent an affidavit of eligibility and liability / publicity release (the "Release"). Unless restricted by law, selected entrant will be required to complete and return the Release within the time period specified therein. A selected entrant will forfeit the prize, and an alternate entrant may be randomly selected from among the remaining Eligible Entries, if any selected entrant: (i) cannot be reached; (ii) fails execute the Release and to return the documents in a timely manner as required pursuant to these Official Rules; or (iii) cannot accept or receive the prize for any reason.
4. PRIZES.
Four (4): footballs autographed by Tim Tebow.  Approximate Retail Value of each football prize: $29.99.
Six (6): "Tebow" Jerseys autographed by Tim Tebow.  Approximate Retail Value of each jersey prize: $100.00.
Approximate Retail Value of all prizes: $719.96.
No substitution, transfer, or cash equivalent for any prize, except that Sponsor, at its sole discretion, may substitute a prize with a prize of equal value, due to unavailability of advertised prize. Each prize will be awarded provided each prize is properly claimed.
5. ODDS. The odds of winning a prize depend on the number of entries received.
6. MARKETING AND PRIVACY. All personal information collected by Sponsor will be used for administration of the Sweepstakes. Any questions regarding privacy matters should be directed to the address set out below. Please refer to Sponsor's privacy policy located at www.tivo.com/policies for important information regarding the collection, use and disclosure of personal information by Sponsor.
7. CONDITIONS. Sweepstakes is subject to these Official Rules. All decisions of Sponsor are final and binding; and entrants agree to waive any right to claim ambiguity in the Sweepstakes or these Official Rules, except where prohibited by law. By accepting a prize, winner agrees to release Sponsor, its affiliates, and the advertising and promotion entities involved with this Sweepstakes in any way, together with the respective directors, employees, officers, licensees, licensors and agents of each, including without limitation, any person or entity associated with the production, judging, or administration of the Sweepstakes (collectively, the "Releasees") from any and all liability, loss or damage arising from or in connection with awarding, receipt and/or use or misuse of prize or participation in any prize related activities. Sponsor reserves the right to use the Sweepstakes for publicity purposes in any media, and to use the name, likeness, and hometown name and/or prize information of selected entrant as part of that publicity, without any compensation or prior review unless prohibited by law. Taxes on the prize, if any, are the sole responsibility of selected entrant. This Sweepstakes is void outside the U.S. and where prohibited or restricted by law, and subject to applicable federal, state, and local laws. Sponsor reserves the right to disqualify any entrant it finds to be tampering with the entry process or the operation of the Sweepstakes or violating these Official Rules. The Releasees shall not be liable for: (i) late, lost, delayed, stolen, misdirected, incomplete unreadable, inaccurate, garbled or unintelligible entries, communications or affidavits, regardless of the method of transmission; (ii) telephone system, telephone or computer hardware, software or other technical or computer malfunctions, lost connections, disconnections, delays or transmission errors; (iii) data corruption, theft, destruction, unauthorized access to or alteration of entry or other materials; (iv) any injuries, losses or damages of any kind caused by the prize or resulting from acceptance, possession or use of a prize, or from participation in the Sweepstakes; or (v) any printing, typographical, administrative or technological errors in any materials associated with the Sweepstakes. Sponsor disclaims any liability for damage to any computer system resulting from participating in, or accessing or downloading information in connection with this Sweepstakes, and reserve the right, in its sole discretion, to cancel, modify or suspend the Sweepstakes should a virus, bug, computer problem, unauthorized intervention or other causes beyond Sponsor's control, corrupt the administration, security or proper play of the Sweepstakes. Sponsor may prohibit an entrant from participating in the Sweepstakes or winning a prize if, in its sole discretion, it determines such entrant is attempting to undermine the legitimate operation of the Sweepstakes in any way by cheating, hacking, deception, or any other unfair playing practices of intending to annoy, abuse, threaten or harass any other players or Sponsor representatives. Disputes regarding these Official Rules and/or this Sweepstakes will be governed by the internal laws of the State of California. Any and all legal actions or claims arising in connection with this Sweepstakes must be brought in a court of competent jurisdiction within the United States. CAUTION: ANY ATTEMPT TO UNDERMINE THE LEGITIMATE OPERATION OF THE SWEEPSTAKES MAY BE IN VIOLATION OF CRIMINAL AND CIVIL LAWS AND WILL RESULT IN DISQUALIFICATION FROM PARTICIPATION IN THE SWEEPSTAKES. SHOULD SUCH AN ATTEMPT BE MADE, SPONSORS RESERVE THE RIGHT TO SEEK REMEDIES AND DAMAGES (INCLUDING ATTORNEY FEES) TO THE FULLEST EXTENT OF THE LAW, INCLUDING CRIMINAL PROSECUTION.
8. WINNERS LIST. For name of the prize winner, send your request with a self-addressed, stamped envelope to: TiVo #1000xBetter Sweepstakes Winners List, P.O. Box 2160, Alviso, CA 95002. Request must be received by December 28, 2012. Winners lists will be sent out once all winners have been verified.
Twitter is not a Sponsor of or affiliated with this Promotion.