TV This Week!
We hope everyone had a wonderful Columbus Day weekend -we know we did! Here's what you should be watching this week!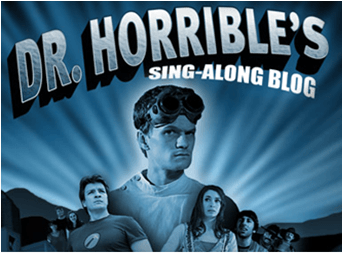 TUESDAY – Dr. Horrible's Sing-Along Blog – 9PM – The CW
Joss Whedon, director of Buffy The Vampire Slayer and The Avengers, is a man who truly can't stop and won't stop. Watch the long anticipated television premiere of Whedon's Internet miniseries, Dr. Horrible's Sing-Along Blog, featuring Felicia Day, Neil Patrick Harris, Nathan Fillion and Simon Helberg. Originally written during the 2008 writers strike, this was an innovative series that proved quality TV can still be made independently, having won multiple awards including the People's Choice Award for Favorite Online Sensation.
WEDNESDAY – Arrow (Series Premiere) – 8PM – The CW
Featured in our must-see new fall shows, we're excited to say the CW's Arrow is finally here. Superheroes have been all across the big screen, so it is only right that the network tackles yet another DC Comic hero on the small-screen, following their successful take on Superman, Smallville.
THURSDAY – The Greatest Event in Television History – Midnight – Adult Swim (Cartoon Network)
While we still don't know exactly what this supposed Event is, we have seen enough spoiler pictures to know that we will definitely be tuning in. Jon Hamm (Mad Men) and Adam Scott (Parks & Recreation) will be recreating a classic moment from television, which somehow involves green suits. We have a feeling that this TV special will become a pop culture classic for 2012.