TV Couples We Wish Existed!
Everyone has their opinion on TV couples they love and couples they hate – whether it's Ross and Rachel from Friends or George and Izzi (yes, we still remember that) on Grey's Anatomy. Do you ever watch TV and feel the urge to play matchmaker? We do. While we still can't come to a consensus on a better match for Peter from Family Guy, we have decided on the following 3 TV couples we wish existed:
Jim & Maggie on "The Newsroom"
Don's rivalry with Jim has gone from professional to personal. Even in this past week's episode, his mumblecore-esque dialogue asking supporting B-squad characters about Jim's whereabouts (which nobody else has any concern for) is becoming more and more frustrating. Just as they say in Forgetting Sarah Marshall: "Like The Sopranos – It's over, find a new show." Jim and Maggie's flirting is playing out like an episode from the first season of The O.C. It's about time for these two become a little more than friends… and then get married and geek out about news and social media. We're sure Maggie's roommate would not be thrilled.
Arnold Shortman and Reggie Rocket (From Hey Arnold & Rocket Power)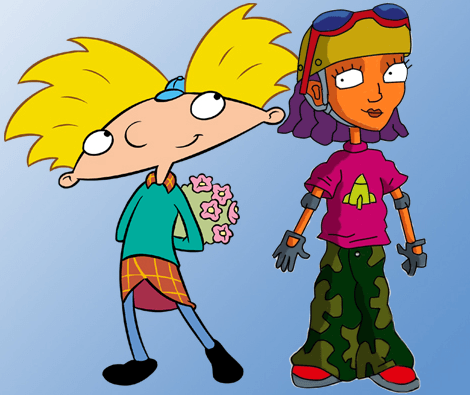 We've been rooting for this couple since the early 2000s.  Arnold, not only had the coolest room in the world, but also had a maturity level most 4th graders didn't know existed. He was trendy, had a football sized head, a hilarious grandpa, a great connection with adults, and not to mention was stalked by the daughter of the "Beeper King." Reggie from Rocket Power always acted as the leader in a pack of 3 guys – need we say more. She was strong headed and looked out for the best interests of relevant people, while still taking compositional risks in her extreme sports ventures. These two would have been the cutest cartoon couple – "Hey Rockets!" anyone? East coast and West coast love can always be adorable. (Also, Arnold wore a kilt and Reggie wore Cargo pants; Style Rebel Youths – it's meant to be).
Elaine Benes and Joey Tribbiani (From Seinfeld & Friends)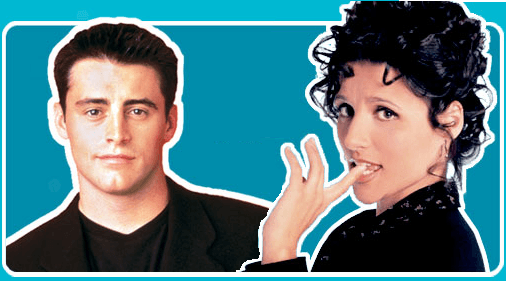 A comic match made in heaven. If these two erratic, arrogant and hilarious characters met up in the 90s TV universe, we have no doubt they would become a TV couple favorite. With classic catch phrases such as "GET OUT!" and "Fugged-a-boutit," this would have been the quirkiest couple on television. We can already imagine their arguments – "Central Perk" or "Monk's Restaurant" for coffee? Joey would have fit right in with Elaine's extensive dating history that ranged from "The Sponge" to "The Maestro."