In the women's vault final, Team USA learned there is no such thing as a "sure thing." McKayla Maroney of USA, who earlier in these Olympics stuck an amazing vault, was highly expected to come away with gold; however, her failed second vault – which became TiVo's Top Moment for Day 9 – proved that there are no sure things: Romania's Sandra Izbasa needed two perfect vaults to best Maroney and did just that, scoring a 15.196 and taking the gold.
Track and field events dominated the rest of the Top Moments from Day 9 of the London Olympics: In the men's 100m, Usain Bolt of Jamaica once again showed off his incredible speed by defeating teammates Yohan Blake and Asafa Powell of Jamaica and Tyson Gay of the USA: Bolt finished in only 9.63 seconds to once again win gold and become the world's fastest man.
TiVo's Top 5 Olympic Moments – August 5, 2012 – NBC Broadcast Prime

| | | |
| --- | --- | --- |
| Rank | Top Moment(NBC ET/PT) | Description |
| 1 |  10:31:14 PM | McKayla Maroney (USA) starts her second run in the women's vault final. She fails to stick the landing, dropping her score to only 14.300 |
| 2 |  10:39:12 PM | Sandra Raluca Izbasa of Romania hugs McKayla Maroney (USA) after results show Sandra receiving gold: Sandra scores a 15.196; McKayla scores 15.083 |
| 3 |  10:10:43 PM | 16-year-old Elsabeth Black (CAN) lands knee first and then face down on the mat on her first vault in the women's vault final. She suffers an injury on the left ankle and can't complete her second vault. |
| 4 |  11:15:22 PM | Usain Bolt of Jamaica wins the men's 100m in 9.63 seconds (setting an Olympic record); teammate Yohan Blake comes in second. Justin Gatlin (USA) wins bronze. |
| 5 |  10:47:32 PM | Double amputee Oscar Pistorius of South Africa tries keep pace in the men's 400m semifinal. He eventually finishes last in the semifinal heat but wins the respect of the crowd and fellow athletes. Kirani James from Grenada wins this heat followed by Chris Brown from the Bahamas and Jonathan Borlee from Belgium. |
 * Top 5 moments based on live + Same Day Viewership of the olympic games on NBC
TiVo Second-by-Second Viewership – NBC Olympics Broadcast – August 5, 2012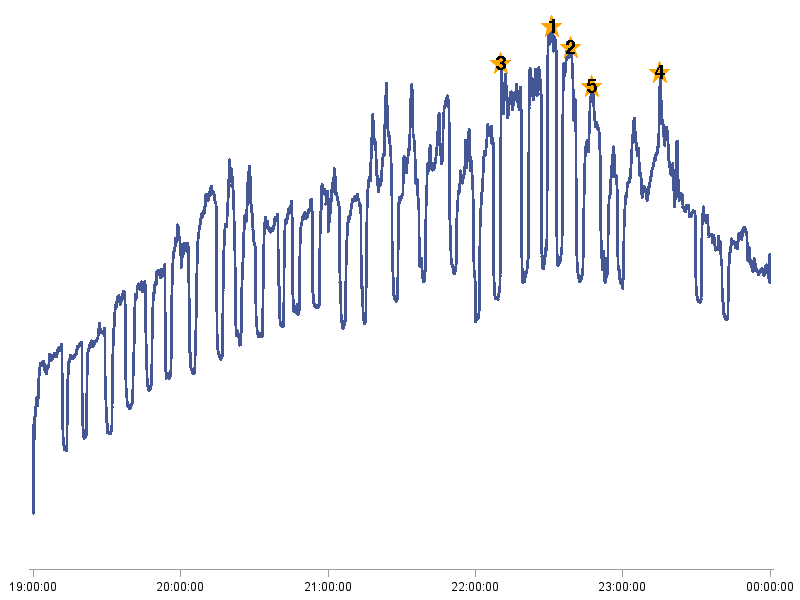 TiVo Research & Analytics
TiVo's Top Moments data presented above come from TiVo's Stop||WatchTM audience insights service. Anonymous viewing data are collected daily from 350,000 US TiVo boxes and aggregated to provide a picture of viewers' second-by-second behaviors including Trick PlayTM functionality such as pausing, fast forwarding, skipping and rewinding. Top Moments reflect the most viewed programming moments including all realtime playback — moments that are rewound and watched more than once are counted once for each time those moments are played at normal speed.
For a more detailed list of the top moments, or with other questions about TiVo Research & Analytics, please email 
Insights@tivo.com