90s Shows You Should Be Recording! Part 1 of 2
The 90s – this was the era of television that was simultaneously so cheesy, so controversial, and so groundbreaking. It is an era of TV that will live on forever in our hearts. From sitcom episodes that involved main characters rebeling against some type of authority, tamagotchis, "Harold and Maude" like relationships, cartoons with innocent political undertones, and most of all, a kid that had his head shaped like a football whose couch came out of his wall with the push of a button, this decade had it all.
Here is where the TiVo season pass comes in handy – have a nostalgia weekend flashback with a few friends and create a 90s viewing party that we like to call "That 90s Show"!
This week and next week, we are honoring our love for the 90s. Get your TiVos ready because we have more shows coming your way!
"The 90s are All That" on TeenNick (and sometimes Nick at Nite)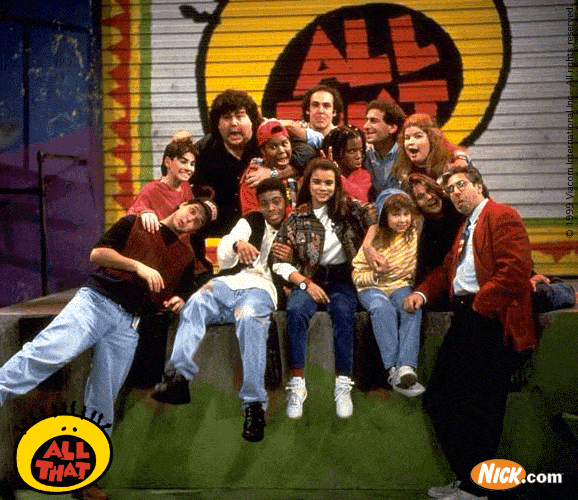 Take a few minutes and go through the four shows that this programming block offers. Since the summer of 2011, Nickelodeon learned that the heart and passion of its programming needed to go back to its original roots. By dominating the internet with a social media presence and embracing the trend of "memes," they persuaded users to demand the return of 90s Nickelodeon shows on air. Using its platform, TeenNick, the channel has brilliantly placed the favorites of their 90s show in a 12AM to 2AM block (EST) every Monday through Friday.
The block consists of "All That," "Kenan and Kel," and a variety of 90s nicktoons, from "Doug" to "Hey Arnold" to "Rugrats."
Kenan & Kel is, dare we say it, very funny. Its slapstick comedy meets denim overalls and a live studio audience. We can't forget about the hit rap artist Coolio in the intro song. This show was also the spinoff of "All That" – you have to love that orange SNICK couch.
"All That" is a one of a kind show that will never be topped. It included child comedians doing hilariously dated segments every Saturday that can still be quoted (ie: Good Burger, Dear Ashley, Detective Dan, Repair-Man-Man-Man). It really did provide "vital information for your everyday life."
This block will serve as a good conversation starter and guarantee a crowd at your place, willing to time travel back to an era of "Stick-Stickley" and "The Secret World of Alex Mack."
90s Fun Fact: The voice of "Doug" is also the voice of Fry from "Futurama"
Before we confess our undying love for Boy Meets World, we need to address one topic of concern: Topanga's name. For reasons we still cannot understand or justify, this was a name that was seen as a socially acceptable on network television and no one questioned it. This is a show that revolutionized itself with the name of one of its female protagonists.
Boy Meets World was a classic coming of age, 90s sitcom gold. What we love most about the show? The show's heart and message at the end of each episode. It's a love story overall, but the dynamic that all of these characters have and how they contribute to each other's growth is something that is rarely seen in modern sitcoms.
The show was one of the flagship shows in ABC's "TGIF" lineup and seems to have corporate syndication and a long-lived run. From Mr. Feeney giving a philosophical speech about ethics to Topanga and Corey breaking up every 10 episodes, to the love for Sean's odler brother Jack, aka Joey Lawrence (that little kid from Mrs. Doubtfire),  this is a show that is sure to gather people around the tube for a great time.
 MTV2 is truly breaking new ground by picking up the rights to syndicate the original that started the careers of Zack Morris (Mark Paul-Gosselaar) and AC Slater (Mario Lopez). This show was fun and innocent, but most of all taught everyone who grew up in the 90s about adolescence and how to truly enjoy youth. Saved by the Bell reinforced the importance of hanging out with a diverse group of friends and that if you get into inappropriate shenanigans during your teen years, everything will be okay and will usually end with a hilarious outcome. Now, whether that last part is true in real life is still debatable. Did we forget to mention the show's two straight to TV movies in Vegas and Hawaii?
You can't go wrong watching Saved by the Bell, regardless of what kind of mood you're in.  Sit back, relax, and watch Zack get into more trouble and face the wrath of Mr. Belding (except for those few times the two joined forces). We deem this show the most worthy of a marathon. Go plow through a plethora of episodes.
Saved by the Bell fun fact: the show contains "E/I" (educational information) logo on all of their episodes, something that is hard to conquer in modern day as most new shows contain innuendos or something parents might not want their kid to see.