Precious TV Moments: The TiVo Community Responds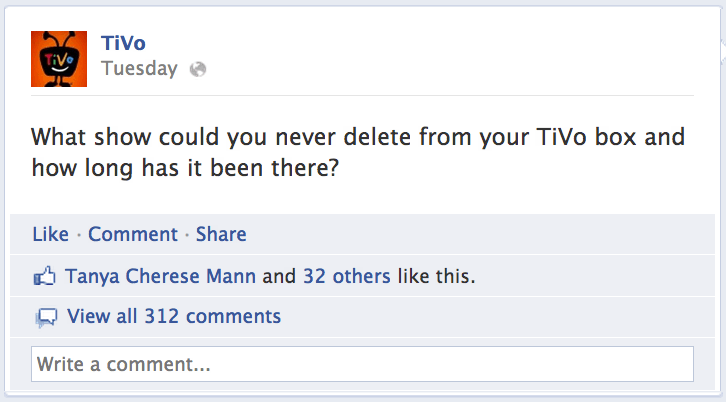 On Tuesday, we asked our fans on Facebook the following question:
What show could you never delete from your TiVo box and how long has it been there?
We were totally floored by the number of responses (more than 300!). We read through them, and saw some themes emerge. They speak to a diversity of tastes, shared values and common threads that connect the TiVo community. Here's the rundown, complete with our favorite responses.
Finales, finales, finales
If one thing is clear, it's that TiVo box owners love big finales. Among the responses were Seinfeld, The Sopranos and Six Feet Under (to name a few). But ABC's LOST was far and away the most popular response we saw. The sweeping six-season drama hooked viewers from coast to coast with indelible characters we won't soon forget. Jack, Kate, Sawyer, Locke…the list goes on and on. We have to agree — LOST was quite a ride.
Music / Concerts
If you thought TiVo was only about TV shows, the community begs to differ. We saw a surprising number of responses from fans who recorded concerts from their favorite bands. Coldplay was our most-mentioned artist.
"Van Morrison performing on Austin City Limits from 2006"    – Patrice B.

 "Coldplay UK concert, full length, been there like 3 years!"   -Tim M.
Moments in History
Some moments will always live on in the public conscious (and in our TiVo boxes). President Obama's inauguration was the #1 historic moment, but here are some other biggies:
 "Conan's final Tonight Show *shakes fist at NBC*"   -Tim S.

"The royal wedding of Prince William to Catherine Middleton. It's been there for a little over a year :-)"   –Carole M.

"The first new Daily Show after 9/11. Jon Stewart wept."   -Victoria L.
Our Favorites
Some responses didn't quite fit under these themes, but they made us smile or nod in agreement.
"Mr. Magoo's Christmas Carole. Been on my Tivo's for years."   -Rob C.

"Pixar shorts compilation, from Christmas two years ago, the kids love it."   -Morgan R.

 "The episode of Jeopardy that I appeared on in 2003!"   -Alison S.
Got a TV moment you can't forget? Head over to our Facebook page and leave a comment!