'Game of Thrones' Season 2 Premieres Slightly Ahead of 'True Blood,' 'Dexter'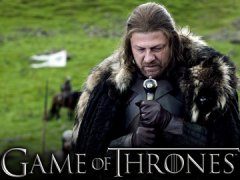 Whoa. With the full force of all the armies of Westeros, and one satisfying slap, Game of Thrones is back. And dare we say – it did not disappoint. After a seemingly never-ending hiatus, George R. R. Martin's epic fantasy picked up right where it had left off, with the Seven Kingdoms splintered into no fewer than five warring factions, all headed for that cool throne made of iron swords, and currently occupied by the worlds worst teenager. Sure, we only got to see one dragon, but the aforementioned slap more than made up for it.
We are clearly all about the Game, but we were curious how many others were with us. The fantasy genre isn't exactly mass fare, but we were pleasantly surprised by the results of our digging. We looked at some other HBO and Showtime programming for comparison, and among premiere episodes for True Blood, Boardwalk Empire, and Dexter, Game of Thrones ranked highest at number 10. True Blood was close behind at number 12, but the other two were a little further down the list, at 30 (Dexter) and 35 (Empire). Interestingly, when looking at our season pass data, the numbers are all flipped around, with Game of Thrones last on the list at number 119, True Blood first at 79, and the other two in the middle at 97 (Empire) and 107 (Dexter).
So what does it mean? Mostly, it means people are watching, and with good reason. It doesn't matter if you've read the books, or how you feel about this season's absence of certain characters (don't worry, we'll never tell) – season one was epic, and if you watched, chances are you're hooked.
Are we wrong? Did you watch season one and fail to see what all the fuss was about? Can't get enough? Never got around to it? Tell us everything or we'll be forced to post video of Joffrey not getting slapped. And no one wants that.