'Dancing with the Stars' Ratings Down But Loyalty Still High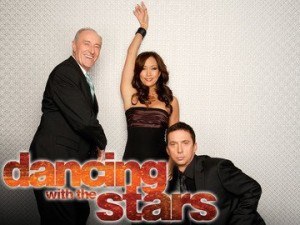 We're four weeks in! So tell us, how did "rock week" treat you? Should we start calling him Jaleel Jagger? Did Gavin annoy you in rehearsals as much as he did Karina? And most importantly, are you still watching?
Let's rewind a bit. The season premiere of Dancing with the Stars was the least watched opener in the show's history, just edged out by NBC's premiere of The Voice. What's going on here?! Is that shiny mirror ball starting to go dim? To find out, we did a little digging, looking at data from our Power||Watch service, which pulls together information from over 43,000 TiVo households. And we found that numbers alone don't tell the whole story:
First of all, DWTS viewers are more loyal! The Voice may be drawing more viewers, but Dancing holds more tightly to its audience over time. The season premiere for DWTS had a 4 percent higher program loyalty than The Voice did among adults 18-49. Also, DWTS fans are time-shifting more than ever. We looked at Dancing's premiere performance for the past six seasons and found out that loyal viewers of the show generally begin to time-shift more over time. In other words, those that are in, are in.
But! We also found out that not everybody is in it for the long haul. Not only was the premiere down in ratings, but it looks like not as many TiVos are set with Season Passes – those are down two percent from last year.
For now, it looks like Dancing with the Stars isn't going anywhere, which will no doubt make many of you (and us) very happy. Do you watch The Voice or are you still hanging in with Dancing? Or do you find a way to fit them both in? And most importantly, will Jaleel Jagger soon have an alter ego named Jalel Jager? (see what we did there?)
*Program Loyalty is the average amount of time spent with a program expressed as a percentage based on the entire length of the program including commercials, promos and PSAs (Public Service Announcements). A minimum of 10% of the program must be viewed to be included in the calculation