ABC's 'Revenge' Strikes a Cord with TiVo Viewers, Everyone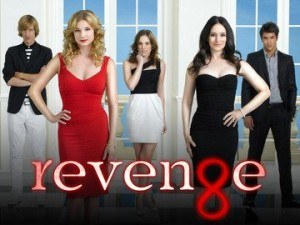 Ah, sweet, sweet Revenge. ABC's soapy new guilty pleasure is anything but a cold dish, and people just can't seem to get enough. Have you seen this show yet? Sex! Betrayal! New identities! It's got everything you could ask for in an addictive tele-drama, and it seems to be a winning formula. With almost 300,000 check-ins on Get Glue, and tons of chatter in the Twitterverse, Revenge might just be here to stay.
Our data confirms that viewers like some comeuppance in their programming, with Revenge sliding into the top 25 of our season pass requests this week. And with it previously at number 27 two weeks ago, viewership seems to be growing. It even fares a little better in program rankings, coming in at number 21 for the season so far. And like all juicy, twisty shows, our Twitter feeds show that a lot of people are recording the show on their TiVos, and trying desperately to avoid spoilers, i.e. @hodakotb "I @tivo'd #revenge..shhh pls don't tell me what happens…BUT …was it good???" and @HollywoodCronin "I can't wait for #revenge today. I tivo'd it so no one tell me what happened!!" Don't worry, guys…we'll never tell.
What about you? Are you hooked on Revenge or still haven't managed to see it? If not, you must. Immediately. Trust us! Then tell us what you think!