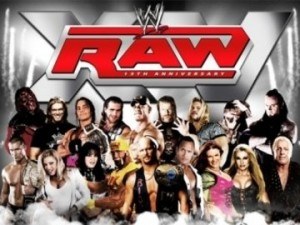 After some conversations with one of our favorite fans, (@WUOnline on Twitter), we started noticing some serious chatter in the Twitterverse surrounding the WWE. We wanted to see what the fuss was about, so we did a little digging. And as usual (we love this stuff), what we found turned out to be really interesting.
First, all is well in the world of professional wrestling. In fact, though WWE's Raw is more star-studded, and gets more attention than SmackDown, the latter has been coming up big lately. Just a few weeks ago, the show saw a 20 percent jump in Nielsen ratings, which some speculate is due to Daniel Bryan's current interesting character arc, and the overall quality of the shows. Those ratings were actually just above the current week's ratings for Raw, which also saw a significant jump and landed at a 2.1.
We also took a look at our own data, and both properties hold their own with TiVo viewers. Monday Night Raw comes in at number 414 on our Season Pass list, with Smackdown not far behind at number 478. But there's more! Raw is one of the top 20 time-shifted prime programs for TiVo subscribers, and Syfy's Smackdown is in the top 40 – not bad for a 60-year-old franchise!
So tell us. Have you stuck with Triple H and the Miz over at Raw? Or have you been more and more captivated by Smackdown's great storytelling? And what do you think of Mike Tyson getting into the WWE Hall of Fame?!