TiVo's Tenth Annual List of Top-Ten Ads from the Big Game!
TiVo is proud to announce its Super Bowl anonymous audience measurements for the 10th year in a row!
This year's top spot goes to….drum roll please…Doritos' "Man's Best Friend" commercial! Doritos sits on top with two of the three spots on this year's list. If that's not enough Doritos has now landed on TiVo's top ten list for the sixth consecutive year since it began its user-generated commercials. So congratulations New York Giants and Doritos!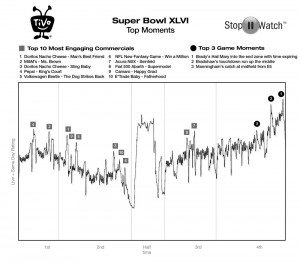 TiVo Highlights:
The top ten rated commercials of this year's game according to TiVo were:
Doritos                                                  "Man's Best Friend"
M&Ms                                                     "Ms. Brown"
Doritos                                                  "Sling Baby"
Pepsi                                                     "King's Court"
Volkswagen                                         "The Dog Strikes Back"
NFL New Fantasy Game                  "Win a Million Bucks"
Acura NSX                                            "Seinfeld"
FIAT 500                                             "Supermodel"
Chevy Camaro                                   "Happy Grad"
E*Trade Baby                                     "Fatherhood"
What makes a Super Bowl commercial so great? Humor! The most engaging commercials since 2003 were humorous ones! Check out the list of top commercials from the last decade for a good laugh…
Who came out on top as the most watched moment, commercial or play? For the second year in a row it was a play. Tom Brady's Hail Mary throw into the end zone with just seconds left on the clock. Last year's most watched moment was when Pittsburgh Steelers' quarterback Ben Roethlisberger threw an incomplete pass to Mike Wallace in the final minute of the fourth quarter, giving Green Bay the Championship title.
The Super Bowl wouldn't be the Super Bowl without the half- time show. There were mixed reviews about Madonna's much anticipated half-time show. Not to mention a whole lot of buzz about MIA flipping the bird. Mixed reviews or not according to TiVo's data Madonna's performance kept the attention of the viewers with the highest viewership in numbers in the past four years. What did you think of the Material Girl's star studded performance? Surprisingly, enough MIA's little birdy didn't get as many rewinds as you would think. Did you see it or did you find out about it post-game?
What was your favorite commercial and/or moment during this year's big game?
TiVo's Super Bowl analysis was prepared using aggregated, anonymous, second-by-second audience measurement data from a sample of 41,666 anonymous households with the Emmy-award winning TiVo® service. TiVo gauges the interest in programming content by measuring the percentage of the TiVo audience watching in "play" speed. The most engaging ads are determined by looking for spots with the biggest bump in viewership relative to the surrounding 15 minutes of programming, offering a true reflection of change in viewership.
For more information from TiVo on Super Bowl and other audience viewership, please visit stopwatch.tivo.com.