Oprah, Anderson Cooper, Ellen Degeneres, and the Battle for Daytime Television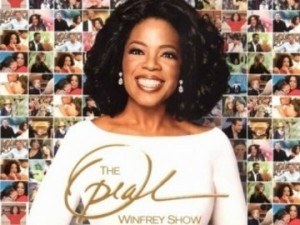 What a difference nine months makes, huh? Almost a year after Oprah went off the air, the battle to fill her shoes rages on, while Winfrey finds herself in hot water with Nielsen for trying to court viewers on Twitter. It feels weird, doesn't it, to see the queen of the airwaves "begging" for viewers? Meanwhile, the playing field is full of other would-be daytime dominators, but who is winning?
The leaders of the pack, no doubt, are Dr. Oz, Ellen Degeneres, and Dr. Phil. But with upcoming shows from Katie Couric, Rikki Lake, and Steve Harvey, just to name a few, is the audience too splintered to produce another Oprah-sized success? Anderson Cooper is struggling to find his daytime audience, despite his overall popularity in other timeslots. This is probably a function of the clown car that has become daytime TV, rather than whether or not his show is actually good…pretty soon, everyone will have a daytime show! Even TiVo! (First topic? TiVo wish lists and the women who love them)
Look at it this way. In February of her last season, Oprah came in at number 15 on TiVo's season pass rankings. Dr. Oz, the strongest of the current daytime shows, currently ranks at 92. Below him are Ellen Degeneres at 132, Dr. Phil at 175, and Live! With Regis & Kelly all the way down in the four hundreds with Anderson Cooper, at 441 and 464, respectively. Interestingly, by the time Oprah went off the air in September 2011, she had fallen in the ranks to number 45. So maybe people had already begun defecting? Or maybe the Queen of Talk had run out of things to talk about!
Are you watching daytime TV? How do you choose between the growing number of options? And do you think Oprah is just wishing she stayed where she was? Tell us in the comments!