Finally! Community Returns to NBC March 15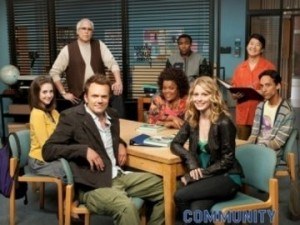 #OccupyGreendale was a success! NBC announced yesterday that the low-rated, but highly praised Community will return to the peacock on Thursday, March 15. Let's all breathe a great big sigh of relief, shall we?
While there had been some talk of moving the Greendale gang over to Wednesday nights, NBC has decided to put it right back where it was – at 8pm on Thursday nights against CBS' Big Bang Theory. We don't know what this will do for Community's numbers – Big Bang is number four on our season pass list vs. Community's 80 – but we have to admit that we're happy it will still be in the Thursday night family. The rest of the night's lineup will include 30 Rock, The Office, and Up All Night. Don't worry, Parks and Rec will be back on April 19 after Up All Night is done with its season. Phew!
There's no doubt that Community struggles against other network comedies, but compared to its NBC compatriots, TiVo data shows that it performs similarly. Besides the long-running 30 Rock, which is currently number 22 on our season pass list, Up All Night is at number 64, while Parks and Recreation is at 72, just eight rungs above Community. Wherever it is, we can't tell you how excited we are that the Greendale story isn't done yet. What about you? At 8pm on Thursdays will you be with the Big Bang crew or Occupying Greendale once more?
Also, for all you Lost fans out there, we thought you'd like @DamonLindelof's Greendale tweet: "COMMUNITY is back at 8 on the 15th. I have a good feeling about those numbers." We do too!