Buffy the Vampire Slayer Alive and Well on TiVo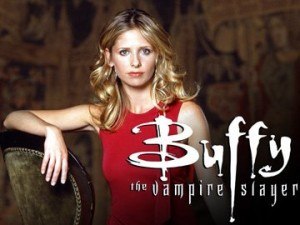 Full disclosure: we love the Buffster. Whether it's those early monster-of-the-week episodes back in season one, the Scooby Gang, Spike and Joyce, Willow and Tara, or the mysterious cheese man, we love it.
Turns out, we're not the only ones! Judging by our Twitter feeds, and the tens of thousands of people who have checked into Sunnydale on Get Glue, love for the "slayer" is alive and well. In fact, Buffy's back on your TV, and well… she's kind of everywhere.
Since its original runs on the WB and UPN, Buffy has aired on Logo, MTV, Oxygen, AMC, Chiller, Teen Nick… like we said, everywhere. And people are watching. If we're just looking at TiVo data for the last two years, the show ranks in the top 1,500 for season pass requests, which we'd say isn't too bad considering it's been off the air for almost ten years. As for our rankings of time-shifted dramas in 2011, Buffy came in at 593 when airing on Teen Nick, and 618 on Oxygen. And considering how many dramas there are across all cable networks, that's not bad at all.
As with most things in the Whedonverse, Buffy the Vampire Slayer has cast a wide net in terms of impact – we haven't even mentioned the comic books, the TV spin-off (Angel), and the college courses! But what we find most interesting about this is that when you love a series as much as many love Buffy, sometimes it just feels good to know that there are others out there still watching along with you. Welcome back to the Hellmouth, people.
Are you a Buffy fan, or did the name turn you off from jumping into the show (you wouldn't be alone in that)? If not Buffy, what's the show you can't let go of and will always have a happy home on your TiVo, no matter how much time goes by?