Bridesmaids Shatters Records as the Biggest Video-On-Demand Title of All Time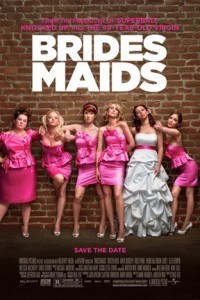 Even a good 10 months after its release date, Bridesmaids still has a habit of turning everything it touches into gold. On the heels of Oscar nods for both Melissa McCarthy (Best Supporting Actress) and Kristen Wiig (Best Original Screenplay), Maya Rudolph is back hosting SNL this month, and Wendi McLendon-Covey is set to star alongside Goldie Hawn in Paul Feig's new HBO show, The Viagra Diaries. But some would argue that's nothing compared to the money this female-driven comedy keeps raking in.
In just four months, Bridesmaids has accumulated a record 4.8 million video-on-demand (VOD) rentals, making it the most popular VOD title of all time. According to Rentrak (via a Universal Pictures release), all those viewings add up to an additional $24 million in VOD grosses (There's a joke in there about grosses in relation to this Apatow-helmed flick, but we're just going to move right along, m'kay?). While traditional viewing formats like DVD and Blu-ray still account for most (about $100 million) of the Bridesmaids home video market, it has taken in about $40 million from other formats, which is not just good news for all those involved in the film, but for the constantly-in-flux industry as a whole.
Interestingly, for all the Bridesmaids hype, the fan favorite is fairly low on TiVo's Wish List ranking, though the number of requests has increased since last year. Also since last year, TiVo viewers seem to be discovering (or rediscovering) Melissa McCarthy – Mike & Molly has jumped 20 ranks since last year, from number 84 on our season pass list to number 64.
How many times have you watched Kristen Wiig's awkward engagement party toast on demand? Do you love the film, or are you experiencing Bridesmaids burnout? If you haven't seen it yet, or just want to re-watch "that" scene again, find it on Netflix on your TiVo!