Saturday Night Live: Daniel Radcliffe Gives It His All, Lana Del Rey Gives It Her…Best?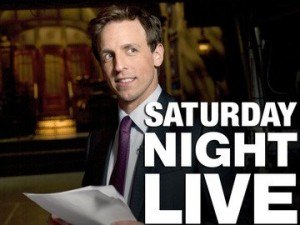 Wow. Not since Ashlee Simpson danced a jig off the stage in 8H has a Saturday Night Live musical guest drawn so much ire from the public. Even if you didn't catch the show, chances are you've heard by now of newcomer Lana Del Rey's much talked-about, much-maligned performance during the Daniel Radcliffe-hosted episode. Twitter nearly burst into flames over the set, with stars like Juliette Lewis tweeting (and then deleting) "Wow, watching this 'singer' on SNL is like watching a 12-year-old in their bedroom when they're pretending to sing and perform #signofourtimes." And sweet, loveable Brian Williams even sent an unintentionally public email to Gawker chief Nick Denton, calling it "one of the worst outings in 'SNL' history." Ouch.
Clearly, however, not everybody is swayed by the negative hype surrounding Del Rey's 'SNL' debut. A quick look at Twitter reveals that there are actually a lot of people pulling for Del Rey, and a whole bunch of them listening to her on Pandora, one of TiVo's latest (and some might say greatest) offerings. @VirgontheVerge writes "I'm listening to Video Games (Omid 16B Remix) by Lana Del Rey on Pandora… Obsessed with her, right now! bit.ly/x1MB7O #pandora," @wootiwoo91 thinks that "Lana del Rey radio on pandora is seriously the best thing I've ever listened to." And according to @pearlie_Q, "Lana Del Rey pandora was the best. decision. ever."
See? There's hope for the young starlet yet. Case in point, she's already booked at SXSW!
Besides Del Rey, the episode itself actually held strong in the ratings, scoring a 3.0 in the 18 – 49 demo, and tied for second best of the season. It got mixed reviews, though we think most people can agree that Radcliffe gave it his all, and showed, bad writing or not, that he is destined for great things beyond Harry Potter. People, he played Casey Anthony's dog and made it good! This cannot be an easy thing!
So, what did you think? Did you watch SNL this week, or at least catch the clips online? Was Lana Del Rey really that bad, or are people just being way too hard on her? And who cannot wait to see where Daniel Radcliffe's career (and abs) takes him?