Roseanne Barr's Got Herself a New Show, AND a Twitter War Over Beyoncé, Jay-Z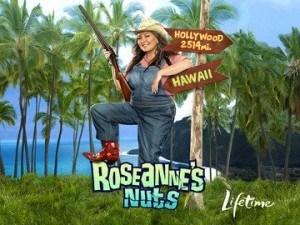 Roseanne Barr is having quite the week! After engaging in an all-out Twitter war with fans of Beyoncé and Jay-Z, it was announced yesterday that Roseanne is set to executive produce and star in one of three new NBC comedy pilots. In typical Roseanne fashion, her week has been all about the highs and lows.
On the Twitter front, Barr infuriated fans of the power couple when, referencing Beyoncé singing "At Last" at Obama's inauguration, she tweeted "I have not listened to anything Beyoncé or Jay-Z has said or recorded since they did that to Etta. Their arrogance was disgusting." This kicked off a whole slew of (mostly profane) jabs back and forth between her and fans, followed by an apology. Talk about a whirlwind!
And then there's the good stuff. Her new show, Downwardly Mobile, is a multi-camera sitcom that stars Barr as the operator/mother hen of a mobile-home park. It marks Barr's return to the small screen after her Lifetime reality show, Roseanne's Nuts, was cancelled after a short run and dismal ratings – it premiered at number 1,139 on TiVo's season pass list. On the one hand, that doesn't sound like it would bode well for a new Roseanne-centered project. On the other hand, that was reality, and this is something of a scripted return to her glory days – a blue-collar comedy a la the original Roseanne. The show's Eric Gilliland will even be back to write and executive produce, so what could go wrong? (We didn't mean that to sound so ominous.)
So what say you? Do you love Roseanne's outspoken antics or find them tiresome? Will you be getting a season pass to her new show? Tell us in the comments!