Now Available: TiVo Premiere Elite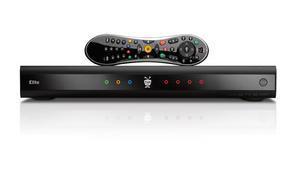 Four tuners. Two terabytes. Unlimited entertainment.
What has four-tuners, a two terabyte hard drive and is THX-Certified? It's the TiVo® Premiere Elite! With four tuners users can enjoy recording four different shows while viewing a fifth recorded program. Plus with a two terabyte hard drive users can record up to 300 hours of HD! That's two times more recording space than current retail offerings. Even with all of that, it still maintains TiVo's gold-standard and easy to navigate user interface, integrating Web entertainment from Netflix, Pandora, Hulu Plus, Amazon Instant Video and YouTube, bringing Brilliant TV to life.
TiVo Premiere Elite Key Specifications:
TiVo Series4TM architecture
Supports digital cable, high-definition digital cable and Verizon FiOS®
THX-certified DVR, offering optimal video and audio fidelity
Outputs: HDMI, Component video, Composite video, Optical audio, Analog audio
Video output modes include: 480i, 480p, 720p, 1080i, 1080p
Inputs: CableCARDTM, Cable coax, Ethernet
Additional support for USB 2.0 (2 ports), eSATA for external recording space, TiVo Wireless N or G Network Adapter
2 Terabytes of recording space for up to 300 hours of recorded programming
The TiVo Premiere Elite is intended for use with digital cable systems only and does not work with analog cable or over-the-air antennas.  If you'd like to get your hands on the TiVo Premiere Elite it will available today through tivo.com, authorized home theater installers and Magnolia stores nationwide for $499.99 MSRP.  To learn more about the product visit www.tivo.com/elite.