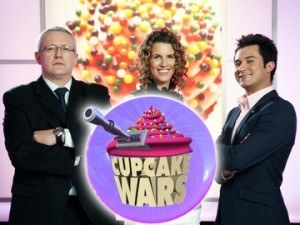 Get your TiVo®DVR  ready for TiVo's Best Bet Recordings. This week brings a variety of shows. See what baking challenges will be presented in Cupcake Wars. Find Buried Treasure with Leigh and Leslie Keno. Watch Matt Kuchar defend his title at the PGA Tour Golf. End the week and start your weekend with Juno. Here are a few more suggestions for the week…
Downsized: In this new episode, Rex returns home after being hospitalized for an asthma attack and takes some ribbing from his siblings about the way Mom is babying him. Laura and Todd aren't kidding around, however, when they worry about whether their insurance will cover the medical bills. Todd gets a promising business lead. Bailey's car troubles put her at risk of missing curfew.
Rosanne's Nuts: Roseanne and Johnny clash while preparing a speech she's giving to some high-school girls on being strong, independent women. Archie takes Jake out for some male bonding time in an effort to toughen him up for farm life in the new episode "Grrrl Power."
Suits: Mike (Patrick J. Adams) questions the motives behind Harvey's (Gabriel Macht) firing of an executive on a client's behalf. His actions put the firm's relationship with the client at risk, forcing Harvey to keep him out of Jessica's (Gina Torres) line of fire. Rachel (Meghan Markle) realizes her feelings for Mike may be stronger than she thought as he and Jenny (Vanessa Ray) grow closer in the new episode "The Shelf Life."
Rat Busters: Jimmy Tallman and Michael Morales are two of New York's toughest exterminators, responding to emergency calls of the most traumatic kind involving rat infestations, roaches, mice, bedbugs and all sorts of creepy crawlies. In the new episode "Nightmare Pests," a woman begins renovating her convenience store and discovers rats have taken up residence.
Daily Picks, most-recorded shows and more can all be found on tivo.com to help make the most of your TV time. Not at home to set a recording? No sweat. Your broadband-connected TiVo box allows you to set recording while on the go. Learn more.