TiVo and Insignia. The Perfect TV Match.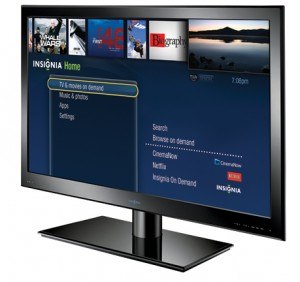 What could be better than the TiVo® experience and an Insignia Connected TV!? Easy. An Insignia Connected TV powered by TiVo Design.
Through this product, TiVo continues its evolution from a DVR by bringing its expertise and easy-to-use interface to the new connected TV space. This connected TV is the first television to include the award-winning TiVo interface that marries traditional TV and the Internet into one device and without adding another box.
Consumers will have access to a variety of web-based entertainment. Looking for a great movie? Stream a flick from CinemaNow or Netflix. Looking set the mood with some music!? Pandora and Napster can help. Whether you're into movies, music or just want to watch TV there are plenty of options! Plus, this is all powered by TiVo's user interface and certain search capabilities and all in high definition, with no paid subscription to the TiVo service required.
The Insignia Connected TV with TiVo Design does not function as a DVR, but is fully compatible with TiVo DVRs and cable operators provisioned DVRs to accommodate recorded programs.
The 42" Insignia Connected TV powered by TiVo Design is available now for $699.99 and the 32" is available now for $499.99. To learn more or order now visit
Evan Young is Sr. Director of Product Management for TiVo Inc. You can follow him @evan_young.