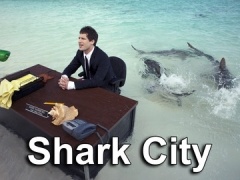 This week's post is focused on, Dun, Dun, Dun…Shark Week on the Discovery Channel!  Don't forget to set your TiVo® box to catch all of the action!
Rogue Sharks
Monday, August 1
9PM e/p
It was the central premise of the hit movie Jaws that still haunts people today: that certain sharks may "go rogue" and decide to go after humans. But does the science back this up? In this hour, we'll weave stories of some of the most horrific shark attacks in history with the larger scientific detective story of whether or not individual sharks ever develop a taste for human flesh and go Rogue.
Killer Sharks
Tuesday, August 2
9PM e/p
December 1957: the height of tourist season in South Africa. Merry vacationers from around the globe descend on an idyllic resort town along the sunny coast to enjoy the summer. It's not long until the white sands are clogged with dead bodies and the sapphire waters are red with blood. The culprit? The authorities suspected a single, massive rogue shark with a taste for human flesh.
How Sharks Hunt
Wednesday, August 3
9PM e/p
Dave and Cody of Dual Survival dive in to investigate why no two species of shark attack in the same manner. Through a series of groundbreaking tests and the use of innovative high-tech camera technologies, they'll examine the shark's unique savagery and specialized methods of killing, revealing exactly why they're so deadly.
Shark City
Thursday August
9PM e/p
Most of us think of sharks as blank-eyed killing machines, but in Shark City, we'll get to know a handful of them as individuals. We'll follow the sharks of the Bahamas through their days and nights to find out how they size each other up, what they like to eat and what it is that they're afraid of. This show will feature the amazing talents and hilarious insights of our Chief Shark Officer, Andy Samberg.
If Shark week isn't your thing, then check out some of these great picks for the week: The Bachelorette, Take the Money and Run, Restaurant Impossible, Jersey Shore, and Friends With Benefits .
Daily Picks, most-recorded shows and more can all be found on tivo.com to help make the most of your TV time. Not at home to set a recording? No sweat. Your broadband-connected TiVo box allows you to set recordings while on the go.  Learn More.